Director Sharmeen of Ms. Marvel speaks with us about recreating the Partition moment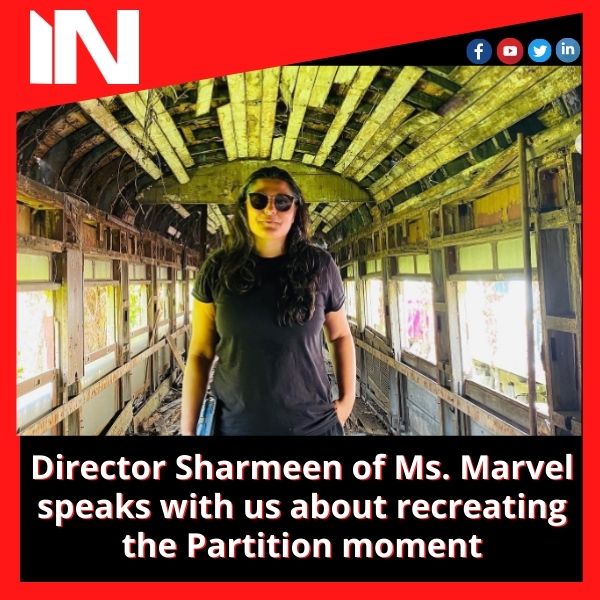 The first episode of Ms. Marvel, the Disney+ Hotstar series that introduces the first Pakistani superhero to the Marvel Cinematic Universe, features Kamala Khan saying, "It's not really the brown girls from Jersey City who save the world." The fourth and fifth episodes of the superhero series are directed by prominent social justice documentarians Saving Face, A Girl in the River: The Price of Forgiveness, and A Journey of a Thousand Miles by Pakistani filmmaker Sharmeen Obaid-Chinoy.
Young Kamala Khan (Iman Vellani) travels from Jersey City to Karachi in the fourth episode to learn more about her ancestry and newly discovered powers. The show dives into the agony of Partition by studying the tales of Kamala's great-grandmother, a being from another realm who gave Kamala her special skills.
I chatted with Sharmeen through Zoom about the show's enormous goals, its portrayal of diverse viewpoints, and its attempt to recreate Karachi.
Nearly a thousand extras were working on the set of the moment where we travelled back to 1947 when we were standing on the platform. There was a time on set when everyone on set couldn't believe that we were able to recreate Partition and present this tale to this generation while Kamala was walking on the platform and listening to these snippets of talks. We felt as though we had been transported to 1947 at the time we were recording her crossing the platform. Each of us sensed the suffering those families were through, and it seemed as though we were watching history unfold.
With this show, I wanted everyone to fall in love with Kamala Khan's family and desire to live their lifestyle, including eating the same foods, using the same slang, and listening to the same music. We wanted to show people the depth of our culture and lives, which few people outside of our immediate area are aware of. Weddings and festivals were the only things we tried to use to entice them. I'll give you an example: When Kamala first arrives in Karachi, the food she tries and the instructions she requests all serve as an introduction to the city, its culture, and its residents.
Group Media Publications
Entertainment News Platforms – anyflix.in
Construction Infrastructure and Mining News Platform – https://cimreviews.com/
General News Platform – https://ihtlive.com/
Legal and Laws News Platforms – https://legalmatters.in/
Podcast Platforms – https://anyfm.in/
Watch Vicky Kaushal blush when Katrina Kaif.
Title: Vicky Kaushal's Blushing Affection: Fans Bring Up Katrina Kaif During the "Zara Hatke Zara Bachke" Promotions
Introduction: The world of Bollywood is always abuzz with gossip and speculation, especially when it comes to celebrity relationships. Recently, during the promotional events for the film "Zara Hatke Zara Bachke," fans managed to put Vicky Kaushal in a rather adorable spot by mentioning his rumored romantic interest, Katrina Kaif. The actor's blushing response and the ensuing excitement among fans added a touch of sweetness and intrigue to the film's promotions.
Fans' Curiosity: As Vicky Kaushal stepped out to promote his latest project, "Zara Hatke Zara Bachke," fans couldn't resist bringing up the topic of his alleged relationship with Katrina Kaif. The couple's rumored romance has been the subject of much speculation in the media and has piqued the curiosity of fans worldwide. During various interactions, fans took the opportunity to tease Vicky and observe his reaction when Katrina's name was mentioned.
Vicky's Blushing Affection: Much to the delight of fans, Vicky Kaushal couldn't hide his blushing smile when Katrina Kaif's name came up during the promotions. Despite maintaining a certain level of privacy about their personal lives, Vicky's reaction spoke volumes about his affection for the Bollywood diva. His genuine blush and sheepish smile instantly became a viral moment, capturing the attention of fans and adding an element of charm to the film's promotions.
The Power of Speculation: Celebrity relationships have long been a source of fascination for fans, and the Vicky Kaushal-Katrina Kaif pairing is no exception. The duo's alleged romance has sparked a wave of speculation and has fans eagerly awaiting any confirmation or denial from the actors themselves. The excitement surrounding their possible relationship has not only fueled curiosity but has also propelled the film's promotions to new heights.
Maintaining Privacy: Despite the constant scrutiny and interest in their personal lives, both Vicky Kaushal and Katrina Kaif have been relatively private about their relationship status. They have chosen to let their work and performances speak for themselves, keeping their personal lives away from the prying eyes of the media. This discretion has only added to the allure and intrigue surrounding their rumored romance, leaving fans eagerly anticipating any official statement or revelation.
Fans' Reactions: The adorable moment of Vicky Kaushal blushing when Katrina Kaif's name was mentioned quickly spread across social media platforms. Fans couldn't help but swoon over the actor's genuine reaction, expressing their excitement and support for the potential couple. Memes, fan art, and heartwarming messages flooded the internet, showcasing the extent of fans' enthusiasm and affection for the duo.
Looking Ahead: As Vicky Kaushal continues his promotional journey for "Zara Hatke Zara Bachke," fans eagerly anticipate any further interactions or revelations between him and Katrina Kaif. The duo's undeniable chemistry, both on and off-screen, has only fueled the curiosity surrounding their relationship. Whether they choose to keep their personal lives private or make an official announcement, fans remain dedicated and excited to witness their favorite actors' journey, both professionally and personally.
Conclusion: The promotion of "Zara Hatke Zara Bachke" became even more exciting as fans playfully brought up Katrina Kaif's name to observe Vicky Kaushal's blush-inducing response. The actor's heartfelt reaction delighted fans and added a touch of sweetness to the promotional events. While Vicky and Katrina choose to maintain their privacy, their rumored romance continues to captivate fans, who eagerly await any confirmation or further glimpses into their relationship. As the promotional journey unfolds, fans will continue to.
Group Media Publications
Entertainment News Platforms – anyflix.in
Construction Infrastructure and Mining News Platform – https://cimreviews.com/
General News Platform – https://ihtlive.com/
Podcast Platforms – https://anyfm.in