Emilia Clarke of Game of Thrones is referred to by the CEO of Australian TV as a "short, dumpy girl"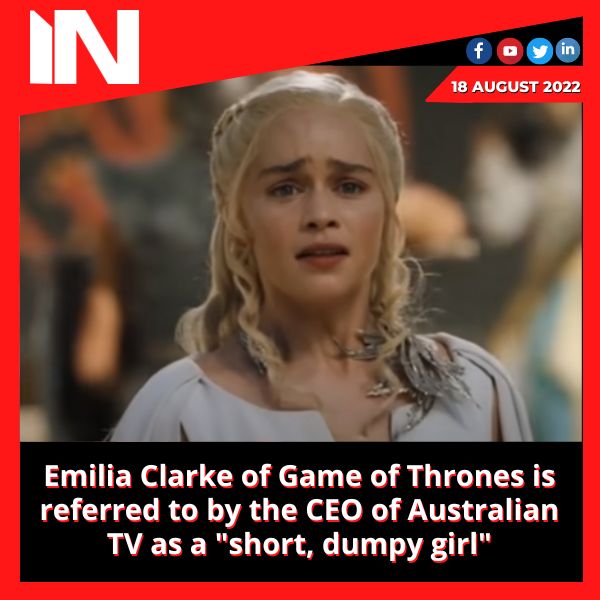 Prior to the debut of House of the Dragon, the Game of Thrones prequel series, the CEO of an Australian television business referred to actor Emilia Clarke as a "short, dumpy girl."
This week, House of the Dragon's official Australian premiere took place in Sydney. Foxtel CEO Patrick Delany said it while the event was happening. According to a story, Patrick attempted to make a joke during a speech he gave before the screening about the first time he saw Game of Thrones.
"What's this show about the short, dumpy girl walking into the fire?" I wondered. Patrick was quoted by Variety as stating. He was referring to Emilia Clarke's Daenerys Targaryen from the television series, who is known for famously walking through fire. According to the report, "there was a bit of a gasp" after his comment.
A spokeswoman for Foxtel reportedly stated that the comment was "meant to be self-deprecating." A statement from the company read, "The idea was to show that for him, Games of Thrones was something extremely different for television in 2011, and that Emilia Clarke moved from being somewhat unknown to one of the most recognisable and well-loved actors in television and film. The Foxtel Group apologises on behalf of Mr. Delany if his comments were misinterpreted and offended anyone.
Because it takes place hundreds of years before Game of Thrones, Emilia is not at all involved in the new HBO prequel series House of the Dragon. The Game of Thrones series finale helped Foxtel achieve the largest overnight subscription growth in company history in 2019.
Foxtel in Australia is where Game of Thrones is shown. In the eight seasons of the original programme from 2011 to 2019, Clarke portrayed Daenerys. The premiere of House of the Dragon is set for August 21. A Game of Thrones spin-off series centred on Kit Harington's Jon Snow is now being created at HBO, according to Emilia.
Group Media Publications
Entertainment News Platforms – anyflix.in
Construction Infrastructure and Mining News Platform – https://cimreviews.com/
General News Platform – https://ihtlive.com/
Legal and Laws News Platforms – https://legalmatters.in/
Podcast Platforms – https://anyfm.in/
David Beckham's tell all docu-series to launch on Netflix, here's all you need to know
When it comes to iconic football legends, David Beckham's name is synonymous with both excellence on the field and charisma off it. The former Manchester United and Real Madrid star has had a storied career, and now he's ready to open up about his life like never before. Beckham's eagerly anticipated docu-series is set to hit Netflix, promising an intimate and revealing look into the life of the football icon. In this blog, we'll delve into what we can expect from this tell-all series.
A Glimpse into David Beckham's Career and Life
David Beckham, known for his exceptional football skills, unique style, and undeniable charm, is one of the most recognizable athletes on the planet. From his early days as a young talent at Manchester United to his time at the Santiago Bernabeu, LA Galaxy, and Paris Saint-Germain, Beckham's career has been nothing short of legendary.
Off the field, he's been a fashion icon, a successful businessman, a UNICEF ambassador, and a loving husband and father. His marriage to Victoria Beckham, a former Spice Girl turned fashion designer, has been a high-profile and enduring partnership, and their family life has been closely followed by the media.
The Untold Story
While fans and admirers have witnessed much of Beckham's life in the public eye, there's always been an air of mystery surrounding certain aspects of his journey. This docu-series promises to peel back the layers and offer an unfiltered view of the man behind the legend.
What to Expect from the Docu-Series
Here's what we can look forward to in David Beckham's tell-all docu-series on Netflix:
Personal Revelations: Beckham will share personal anecdotes and stories that have never been disclosed before. From his early years in football to the challenges he faced in his career, expect to gain insight into the triumphs and tribulations of this sports icon.
Family Life: The series is expected to provide an intimate look at Beckham's family life. Viewers will get to see the dynamics between David, Victoria, and their children, offering a rare glimpse into their private world.
Career Highlights: While Beckham is celebrated for his contributions to football, the docu-series will likely delve into his most memorable moments on the field. From stunning free kicks to championship victories, this series is sure to be a treat for football enthusiasts.
Business Ventures: David Beckham has successfully transitioned from football to business, with ventures ranging from fragrances to a Major League Soccer team. The docu-series will likely shed light on his entrepreneurial journey and the challenges he's faced.
Humanitarian Work: Beckham's humanitarian efforts as a UNICEF ambassador have been commendable. The series may explore his philanthropic work and the causes that are close to his heart.
A Personal Perspective
What sets this docu-series apart is the fact that it's narrated by Beckham himself. His distinctive voice and personal reflections will undoubtedly add depth and authenticity to the storytelling. Hearing his thoughts and emotions firsthand will be a unique and engaging experience for viewers.
David Beckham's tell-all docu-series is poised to be a must-watch for fans of football and anyone intrigued by the life of a global icon. With an inside look at his career, family, and personal journey, this Netflix series promises to be a compelling and revealing portrayal of one of the world's most celebrated athletes. Get ready to go behind the scenes and discover the man behind the legend as David Beckham invites us into his world.
Group Media Publications
Entertainment News Platforms – anyflix.in      
Construction Infrastructure and Mining News Platform – https://cimreviews.com/
General News Platform – https://ihtlive.com/
Podcast Platforms – https://anyfm.in