First look at Sex Education 4: Daniel Levy joins cast, but Otis and Maeve are still apart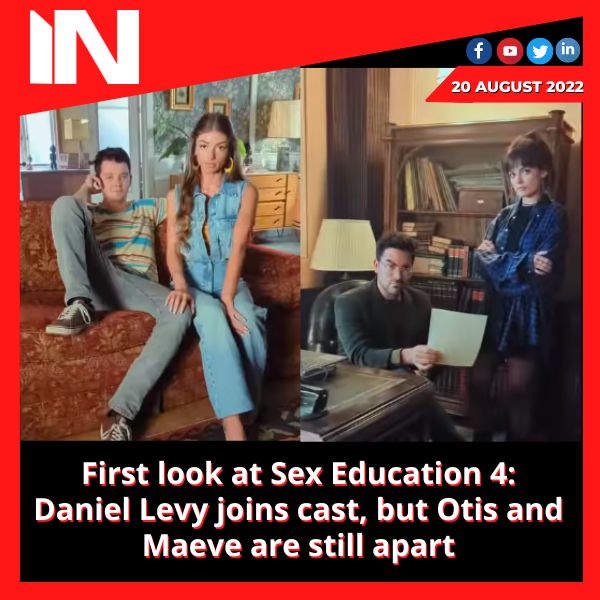 Finally, Netflix has provided information regarding the fourth season of the popular web series Sex Education. The Primetime Emmy Award winner Daniel Levy has joined the cast after the streaming service recently confirmed the renewal of the show. In a recent still, the actor-creator of Schitt's Creek can be seen seated next to Maeve played by Emma Mackey.
Can't think of a better announcement to start the long weekend than #SEXEDUCATION RETURNS FOR SEASON 4, Netflix captioned a brief teaser announcing the next Sex Education season. When the latter leaves, the video clip shows Otis (Asa Butterfield) and Ruby (Mimi Keene) relaxing together. Soon after the clip, Maeve can be seen standing next to her teacher (Daniel Levy).
"Waittt Otis and Ruby are back together this season?" a viewer asked in response to the video. O my God…. O my God…. O my God finally it's happening, a different person exclaimed.
Additionally, Netflix piqued viewers' interest by posting a montage of Maeve and Otis' complex relationship over the previous seasons. It remains to be seen whether they will reunite in the upcoming season. Better that they be together in S4, a fan stated in the comments. Another remarked, "Soo cute together."
Variety reports that Daniel Levy will play Thomas Molloy, a well-known author who serves as Maeve's Ivy League college's US course professor. Otis and his best buddy Eric (Ncuti Gatwa) will be seen attempting to settle in at a new campus, Cavendish Sixth Form College, as Moordale Secondary closes.
According to the portal, there is daily yoga in the community garden, a strong emphasis on sustainability, and a group of kids who are well-known for being… kind? Jackson (Kedar Williams-Stirling) is still trying to move past Cal, while Viv (Chinenye Ezeudu) is completely baffled by the college's student-led, non-competitive attitude (Dua Saleh). By enrolling in an Art A Level, Aimee (Aimee-Lou Wood) tries something new, and Adam (Connor Swindells) questions the value of traditional education.
The whole cast of season four, including many newcomers, will be back, including Gillian Anderson, Aimee Lou Wood, Connor Swindells, Kedar Williams-Stirling, Mimi Keene, George Robinson, Chinenye Ezeudu, Dua Saleh, Alistair Petrie, and Samantha Spiro. Thaddea Graham, Marie Reuther, Felix Mufti, Anthony Lexa, Alexandra James, and Imani Yahshua will be some of those present.
Group Media Publications
Entertainment News Platforms – anyflix.in
Construction Infrastructure and Mining News Platform – https://cimreviews.com/
General News Platform – https://ihtlive.com/
Legal and Laws News Platforms – https://legalmatters.in/
Podcast Platforms – https://anyfm.in/
Watch Vicky Kaushal blush when Katrina Kaif.
Title: Vicky Kaushal's Blushing Affection: Fans Bring Up Katrina Kaif During the "Zara Hatke Zara Bachke" Promotions
Introduction: The world of Bollywood is always abuzz with gossip and speculation, especially when it comes to celebrity relationships. Recently, during the promotional events for the film "Zara Hatke Zara Bachke," fans managed to put Vicky Kaushal in a rather adorable spot by mentioning his rumored romantic interest, Katrina Kaif. The actor's blushing response and the ensuing excitement among fans added a touch of sweetness and intrigue to the film's promotions.
Fans' Curiosity: As Vicky Kaushal stepped out to promote his latest project, "Zara Hatke Zara Bachke," fans couldn't resist bringing up the topic of his alleged relationship with Katrina Kaif. The couple's rumored romance has been the subject of much speculation in the media and has piqued the curiosity of fans worldwide. During various interactions, fans took the opportunity to tease Vicky and observe his reaction when Katrina's name was mentioned.
Vicky's Blushing Affection: Much to the delight of fans, Vicky Kaushal couldn't hide his blushing smile when Katrina Kaif's name came up during the promotions. Despite maintaining a certain level of privacy about their personal lives, Vicky's reaction spoke volumes about his affection for the Bollywood diva. His genuine blush and sheepish smile instantly became a viral moment, capturing the attention of fans and adding an element of charm to the film's promotions.
The Power of Speculation: Celebrity relationships have long been a source of fascination for fans, and the Vicky Kaushal-Katrina Kaif pairing is no exception. The duo's alleged romance has sparked a wave of speculation and has fans eagerly awaiting any confirmation or denial from the actors themselves. The excitement surrounding their possible relationship has not only fueled curiosity but has also propelled the film's promotions to new heights.
Maintaining Privacy: Despite the constant scrutiny and interest in their personal lives, both Vicky Kaushal and Katrina Kaif have been relatively private about their relationship status. They have chosen to let their work and performances speak for themselves, keeping their personal lives away from the prying eyes of the media. This discretion has only added to the allure and intrigue surrounding their rumored romance, leaving fans eagerly anticipating any official statement or revelation.
Fans' Reactions: The adorable moment of Vicky Kaushal blushing when Katrina Kaif's name was mentioned quickly spread across social media platforms. Fans couldn't help but swoon over the actor's genuine reaction, expressing their excitement and support for the potential couple. Memes, fan art, and heartwarming messages flooded the internet, showcasing the extent of fans' enthusiasm and affection for the duo.
Looking Ahead: As Vicky Kaushal continues his promotional journey for "Zara Hatke Zara Bachke," fans eagerly anticipate any further interactions or revelations between him and Katrina Kaif. The duo's undeniable chemistry, both on and off-screen, has only fueled the curiosity surrounding their relationship. Whether they choose to keep their personal lives private or make an official announcement, fans remain dedicated and excited to witness their favorite actors' journey, both professionally and personally.
Conclusion: The promotion of "Zara Hatke Zara Bachke" became even more exciting as fans playfully brought up Katrina Kaif's name to observe Vicky Kaushal's blush-inducing response. The actor's heartfelt reaction delighted fans and added a touch of sweetness to the promotional events. While Vicky and Katrina choose to maintain their privacy, their rumored romance continues to captivate fans, who eagerly await any confirmation or further glimpses into their relationship. As the promotional journey unfolds, fans will continue to.
Group Media Publications
Entertainment News Platforms – anyflix.in
Construction Infrastructure and Mining News Platform – https://cimreviews.com/
General News Platform – https://ihtlive.com/
Podcast Platforms – https://anyfm.in