First trailer for Lootere: Hansal Mehta thriller features a kidnapped Indian ship in Somalia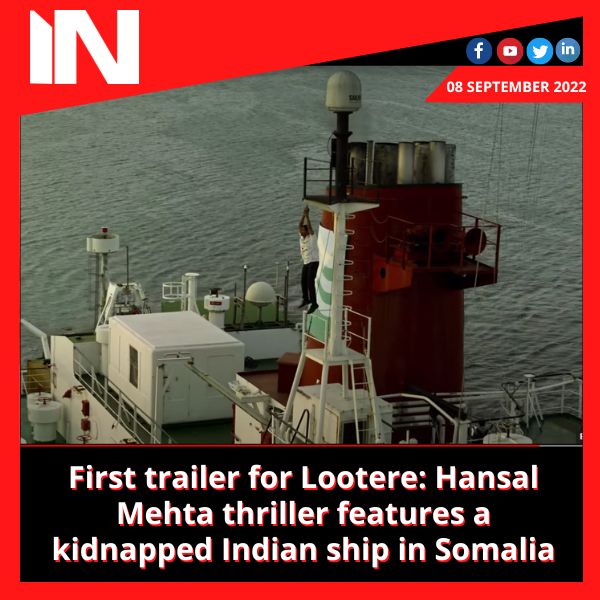 Lootere, a new web series from Hansal Mehta, has released its debut trailer and looks to be a brutal thriller. Jai Mehta, the son of Hansal, is the show's director, while Rajat Kapoor plays a significant part.
Vivek Gomber, Deepak Tijori, Rajat Kapoor, Chandan Roy Sanyal, and Amruta Khanvilkar all appear in the next episode on Disney+ Hotstar. Rajat Kapoor can be seen holding a pair of binoculars on his ship in the teaser's opening long shot of a boat on the water. They soon find themselves in the midst of a hijack, and then there is mayhem and bloodshed. The film also provides a behind-the-scenes look at the production, allowing us to observe Hansal at work on the sets.
Hansal posted the teaser on his Instagram profile with the following message: "Presenting the @jaihmehta directed film #Lootere with pride. #HotstarSpecials #Lootere, a story of greed, survival, terror, and mayhem, will be released soon. Produced by @shaaileshrsingh @KarmaMediaEnt @shaaileshrsingh #LootereOnHotstar #DisneyPlusDay #FirstLook"

One of the first people to remark on the post was the director Nikhil Advani. How fantastic does this look, he wrote. JaiHMehta, a full chip off the old block, will eventually teach us some things. #Lootere @DisneyPlus @mehtahansal @shailesh r sing Apurva Asrani, a film editor and writer, added heart-eye emojis to the message as well.
Hansal Mehta's next film, Faraaz, is a directorial effort in addition to Lootere. The Holey Artisan cafe attack, which shook Bangladesh in July 2016, is the subject of this action-thriller. The movie was chosen earlier this month to screen at the BFI London Film Festival in 2022. Aditya Rawal, the son of Paresh Rawal, plays a significant role and actor Zahan Kapoor makes his acting debut.
Group Media Publications
Entertainment News Platforms – anyflix.in
Construction Infrastructure and Mining News Platform – https://cimreviews.com/
General News Platform – https://ihtlive.com/
Legal and Laws News Platforms – https://legalmatters.in/
Podcast Platforms – https://anyfm.in/
Watch Vicky Kaushal blush when Katrina Kaif.
Title: Vicky Kaushal's Blushing Affection: Fans Bring Up Katrina Kaif During the "Zara Hatke Zara Bachke" Promotions
Introduction: The world of Bollywood is always abuzz with gossip and speculation, especially when it comes to celebrity relationships. Recently, during the promotional events for the film "Zara Hatke Zara Bachke," fans managed to put Vicky Kaushal in a rather adorable spot by mentioning his rumored romantic interest, Katrina Kaif. The actor's blushing response and the ensuing excitement among fans added a touch of sweetness and intrigue to the film's promotions.
Fans' Curiosity: As Vicky Kaushal stepped out to promote his latest project, "Zara Hatke Zara Bachke," fans couldn't resist bringing up the topic of his alleged relationship with Katrina Kaif. The couple's rumored romance has been the subject of much speculation in the media and has piqued the curiosity of fans worldwide. During various interactions, fans took the opportunity to tease Vicky and observe his reaction when Katrina's name was mentioned.
Vicky's Blushing Affection: Much to the delight of fans, Vicky Kaushal couldn't hide his blushing smile when Katrina Kaif's name came up during the promotions. Despite maintaining a certain level of privacy about their personal lives, Vicky's reaction spoke volumes about his affection for the Bollywood diva. His genuine blush and sheepish smile instantly became a viral moment, capturing the attention of fans and adding an element of charm to the film's promotions.
The Power of Speculation: Celebrity relationships have long been a source of fascination for fans, and the Vicky Kaushal-Katrina Kaif pairing is no exception. The duo's alleged romance has sparked a wave of speculation and has fans eagerly awaiting any confirmation or denial from the actors themselves. The excitement surrounding their possible relationship has not only fueled curiosity but has also propelled the film's promotions to new heights.
Maintaining Privacy: Despite the constant scrutiny and interest in their personal lives, both Vicky Kaushal and Katrina Kaif have been relatively private about their relationship status. They have chosen to let their work and performances speak for themselves, keeping their personal lives away from the prying eyes of the media. This discretion has only added to the allure and intrigue surrounding their rumored romance, leaving fans eagerly anticipating any official statement or revelation.
Fans' Reactions: The adorable moment of Vicky Kaushal blushing when Katrina Kaif's name was mentioned quickly spread across social media platforms. Fans couldn't help but swoon over the actor's genuine reaction, expressing their excitement and support for the potential couple. Memes, fan art, and heartwarming messages flooded the internet, showcasing the extent of fans' enthusiasm and affection for the duo.
Looking Ahead: As Vicky Kaushal continues his promotional journey for "Zara Hatke Zara Bachke," fans eagerly anticipate any further interactions or revelations between him and Katrina Kaif. The duo's undeniable chemistry, both on and off-screen, has only fueled the curiosity surrounding their relationship. Whether they choose to keep their personal lives private or make an official announcement, fans remain dedicated and excited to witness their favorite actors' journey, both professionally and personally.
Conclusion: The promotion of "Zara Hatke Zara Bachke" became even more exciting as fans playfully brought up Katrina Kaif's name to observe Vicky Kaushal's blush-inducing response. The actor's heartfelt reaction delighted fans and added a touch of sweetness to the promotional events. While Vicky and Katrina choose to maintain their privacy, their rumored romance continues to captivate fans, who eagerly await any confirmation or further glimpses into their relationship. As the promotional journey unfolds, fans will continue to.
Group Media Publications
Entertainment News Platforms – anyflix.in
Construction Infrastructure and Mining News Platform – https://cimreviews.com/
General News Platform – https://ihtlive.com/
Podcast Platforms – https://anyfm.in