Kirti on how her and Angad's lives have changed: He's a dad and I'm separated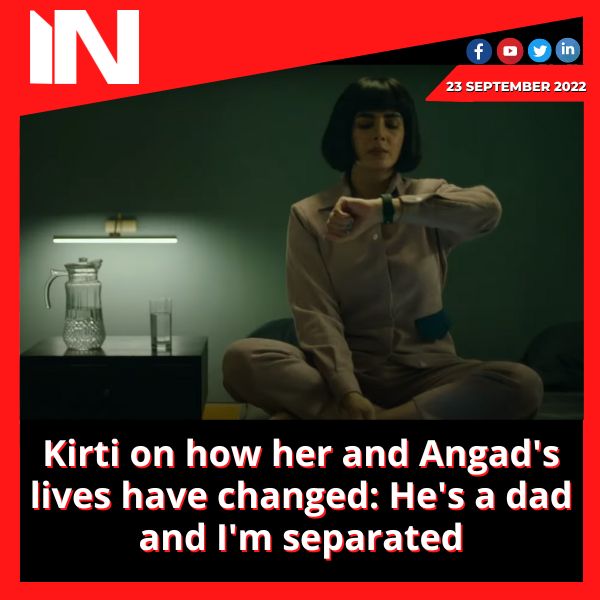 They both portray human-like robots in the upcoming short film The List, which stars Kirti Kulhari and Angad Bedi and will air on Amazon Mini TV soon. They were not allowed to blink at all throughout the filming, but Kirti explains in an exclusive interview with Hindustan Times that on the second day of the three-day production, she developed conjunctivitis.
Additionally, Kirti discussed the relationship trigger that turned her off and expressed her opinion on how robotic people's lives had become. "We have this physical or intangible list in the shape of societal standards etc., almost like it is written for you – you go to school, acquire a job, get married, have kids, they will then get married and have kids," Kirti remarked when discussing the movie. The film's central question is whether you can make your own list or whether you must follow an existing one like a zombie. It appears to be presented in a futuristic manner, although it already exists in our world. We are evolving into machines.
The movie's plot, according to Kirti, made her think of Black Mirror. "Until the film's climax, there is no sound and the characters don't speak at all. They just do actions; they carry out all tasks, but they do it in a highly robotic and mechanical way. I felt like I was reading Black Mirror when I read the script. The way the movie's characters handle situations is frightening. A dark energy is in control of you.
Kirti also discussed the challenging aspects of working on The List. Because the actors behave like zombies, "my biggest task was to look dead, emotionless, and to stare into oblivion. I simply had to remain silent in this situation! Not blinking was the plan. Automatons don't blink. Keeping from blinking was incredibly difficult.
She claimed that during filming the movie, she had an eye infection. Funny enough, on the second day of the shoot, I developed conjunctivitis. Conjunctivitis never affects me. I'm also not supposed to blink at all, on top of everything else. These were the difficulties, but it was also really enjoyable.
When asked what in a relationship causes her to distance herself, Kirti responded, "Drama, unnecessary drama. I can only handle straightforward situations; if you have an issue, please discuss it with me. Produce a plot, a movie, but don't make all that drama. Even I used to have a lot of drama (earlier in my life), but after working on myself, I now have none. everywhere—in my personal life, at work, etc. Give it to me directly, and I'll take it directly. Don't belabour the point, as the saying goes, "Ghumao firao mat." Now, all of my drama is produced for my movies. I can't just demand "tell it to me straight" there. Aam nahi degafir koi mujhe kaam.
I am willing to engage in discussion and conflict. I can handle the truth, but keep it straightforward. I can no longer tolerate it; it is simply not worthwhile. Additionally, Kirti remembered that things were completely different from how they are today when she worked with Angad Bedi (Pink, 2016). We are in various places, which is funny. In the middle of Pink, I was engaged to be married in three months. After all these years, he is now a father of two, and I am once more divorced and single.
It was warm and sweet, she continued. When they were setting up the camera for the top viewpoint shot, I recall that we had a conversation. Just staring up while lying on that bed. We were conversing without even looking at one another about what it's like to be a father and how my path has gone. That was wonderful and soothing.
Group Media Publications
Entertainment News Platforms – anyflix.in
Construction Infrastructure and Mining News Platform – https://cimreviews.com/
General News Platform – https://ihtlive.com/
Legal and Laws News Platforms – https://legalmatters.in/
Podcast Platforms – https://anyfm.in/
Watch Vicky Kaushal blush when Katrina Kaif.
Title: Vicky Kaushal's Blushing Affection: Fans Bring Up Katrina Kaif During the "Zara Hatke Zara Bachke" Promotions
Introduction: The world of Bollywood is always abuzz with gossip and speculation, especially when it comes to celebrity relationships. Recently, during the promotional events for the film "Zara Hatke Zara Bachke," fans managed to put Vicky Kaushal in a rather adorable spot by mentioning his rumored romantic interest, Katrina Kaif. The actor's blushing response and the ensuing excitement among fans added a touch of sweetness and intrigue to the film's promotions.
Fans' Curiosity: As Vicky Kaushal stepped out to promote his latest project, "Zara Hatke Zara Bachke," fans couldn't resist bringing up the topic of his alleged relationship with Katrina Kaif. The couple's rumored romance has been the subject of much speculation in the media and has piqued the curiosity of fans worldwide. During various interactions, fans took the opportunity to tease Vicky and observe his reaction when Katrina's name was mentioned.
Vicky's Blushing Affection: Much to the delight of fans, Vicky Kaushal couldn't hide his blushing smile when Katrina Kaif's name came up during the promotions. Despite maintaining a certain level of privacy about their personal lives, Vicky's reaction spoke volumes about his affection for the Bollywood diva. His genuine blush and sheepish smile instantly became a viral moment, capturing the attention of fans and adding an element of charm to the film's promotions.
The Power of Speculation: Celebrity relationships have long been a source of fascination for fans, and the Vicky Kaushal-Katrina Kaif pairing is no exception. The duo's alleged romance has sparked a wave of speculation and has fans eagerly awaiting any confirmation or denial from the actors themselves. The excitement surrounding their possible relationship has not only fueled curiosity but has also propelled the film's promotions to new heights.
Maintaining Privacy: Despite the constant scrutiny and interest in their personal lives, both Vicky Kaushal and Katrina Kaif have been relatively private about their relationship status. They have chosen to let their work and performances speak for themselves, keeping their personal lives away from the prying eyes of the media. This discretion has only added to the allure and intrigue surrounding their rumored romance, leaving fans eagerly anticipating any official statement or revelation.
Fans' Reactions: The adorable moment of Vicky Kaushal blushing when Katrina Kaif's name was mentioned quickly spread across social media platforms. Fans couldn't help but swoon over the actor's genuine reaction, expressing their excitement and support for the potential couple. Memes, fan art, and heartwarming messages flooded the internet, showcasing the extent of fans' enthusiasm and affection for the duo.
Looking Ahead: As Vicky Kaushal continues his promotional journey for "Zara Hatke Zara Bachke," fans eagerly anticipate any further interactions or revelations between him and Katrina Kaif. The duo's undeniable chemistry, both on and off-screen, has only fueled the curiosity surrounding their relationship. Whether they choose to keep their personal lives private or make an official announcement, fans remain dedicated and excited to witness their favorite actors' journey, both professionally and personally.
Conclusion: The promotion of "Zara Hatke Zara Bachke" became even more exciting as fans playfully brought up Katrina Kaif's name to observe Vicky Kaushal's blush-inducing response. The actor's heartfelt reaction delighted fans and added a touch of sweetness to the promotional events. While Vicky and Katrina choose to maintain their privacy, their rumored romance continues to captivate fans, who eagerly await any confirmation or further glimpses into their relationship. As the promotional journey unfolds, fans will continue to.
Group Media Publications
Entertainment News Platforms – anyflix.in
Construction Infrastructure and Mining News Platform – https://cimreviews.com/
General News Platform – https://ihtlive.com/
Podcast Platforms – https://anyfm.in