Kirti on how her and Angad's lives have changed: He's a dad and I'm separated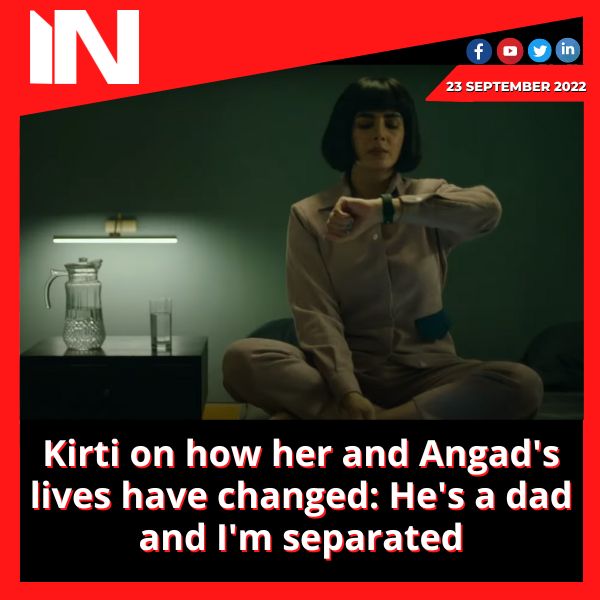 They both portray human-like robots in the upcoming short film The List, which stars Kirti Kulhari and Angad Bedi and will air on Amazon Mini TV soon. They were not allowed to blink at all throughout the filming, but Kirti explains in an exclusive interview with Hindustan Times that on the second day of the three-day production, she developed conjunctivitis.
Additionally, Kirti discussed the relationship trigger that turned her off and expressed her opinion on how robotic people's lives had become. "We have this physical or intangible list in the shape of societal standards etc., almost like it is written for you – you go to school, acquire a job, get married, have kids, they will then get married and have kids," Kirti remarked when discussing the movie. The film's central question is whether you can make your own list or whether you must follow an existing one like a zombie. It appears to be presented in a futuristic manner, although it already exists in our world. We are evolving into machines.
The movie's plot, according to Kirti, made her think of Black Mirror. "Until the film's climax, there is no sound and the characters don't speak at all. They just do actions; they carry out all tasks, but they do it in a highly robotic and mechanical way. I felt like I was reading Black Mirror when I read the script. The way the movie's characters handle situations is frightening. A dark energy is in control of you.
Kirti also discussed the challenging aspects of working on The List. Because the actors behave like zombies, "my biggest task was to look dead, emotionless, and to stare into oblivion. I simply had to remain silent in this situation! Not blinking was the plan. Automatons don't blink. Keeping from blinking was incredibly difficult.
She claimed that during filming the movie, she had an eye infection. Funny enough, on the second day of the shoot, I developed conjunctivitis. Conjunctivitis never affects me. I'm also not supposed to blink at all, on top of everything else. These were the difficulties, but it was also really enjoyable.
When asked what in a relationship causes her to distance herself, Kirti responded, "Drama, unnecessary drama. I can only handle straightforward situations; if you have an issue, please discuss it with me. Produce a plot, a movie, but don't make all that drama. Even I used to have a lot of drama (earlier in my life), but after working on myself, I now have none. everywhere—in my personal life, at work, etc. Give it to me directly, and I'll take it directly. Don't belabour the point, as the saying goes, "Ghumao firao mat." Now, all of my drama is produced for my movies. I can't just demand "tell it to me straight" there. Aam nahi degafir koi mujhe kaam.
I am willing to engage in discussion and conflict. I can handle the truth, but keep it straightforward. I can no longer tolerate it; it is simply not worthwhile. Additionally, Kirti remembered that things were completely different from how they are today when she worked with Angad Bedi (Pink, 2016). We are in various places, which is funny. In the middle of Pink, I was engaged to be married in three months. After all these years, he is now a father of two, and I am once more divorced and single.
It was warm and sweet, she continued. When they were setting up the camera for the top viewpoint shot, I recall that we had a conversation. Just staring up while lying on that bed. We were conversing without even looking at one another about what it's like to be a father and how my path has gone. That was wonderful and soothing.
Group Media Publications
Entertainment News Platforms – anyflix.in
Construction Infrastructure and Mining News Platform – https://cimreviews.com/
General News Platform – https://ihtlive.com/
Legal and Laws News Platforms – https://legalmatters.in/
Podcast Platforms – https://anyfm.in/
On social media, a sneak peek of the upcoming South Korean drama "A Good Day To Be A Dog" was posted.
The world of entertainment is always evolving, offering audiences fresh and captivating stories that transport them into different worlds. South Korean dramas, known for their emotional depth and engaging narratives, have gained global acclaim. A recent social media teaser for the upcoming drama "A Good Day To Be A Dog" has sent waves of excitement among fans, giving them a glimpse of what's in store.
The Intriguing Teaser: In an age where social media is a powerhouse of information and connection, entertainment content often finds its first showcase on these platforms. The teaser for "A Good Day To Be A Dog," the upcoming South Korean drama, was recently unveiled, providing a sneak peek into the storyline and characters that are set to capture viewers' hearts.
A Glimpse into the Plot: While the teaser doesn't reveal all the secrets, it hints at the essence of the drama. "A Good Day To Be A Dog" seems to revolve around the theme of relationships and transformation. The title itself alludes to a lighthearted yet intriguing premise, suggesting that the story might encompass both human and canine perspectives, exploring the complexities of love, emotions, and personal growth.
Promising Elements: With just a short teaser, audiences have already been captivated by several promising elements:
Mystery: The teaser's brief snippets offer a glimpse into the characters' lives without revealing too much, leaving viewers curious about the circumstances that will shape their journeys.
Emotional Depth: South Korean dramas are renowned for their ability to evoke deep emotions. The teaser's emotional undertones hint at the potential for heartwarming and heart-wrenching moments that the drama will deliver.
Character Dynamics: Even within the teaser's limited duration, the chemistry and dynamics between the characters are palpable. This suggests that the drama will delve into intricate relationships and interpersonal connections.
Visual Appeal: The teaser showcases visually appealing scenes and aesthetics, hinting at the attention to detail and cinematic quality that audiences can expect.
Social Media's Role in Building Anticipation: In the digital age, social media platforms have become essential tools for promoting and generating excitement for upcoming entertainment content. Teasers and trailers provide fans with a taste of what's to come, igniting discussions, speculations, and anticipation.
Group Media Publications
Entertainment News Platforms – anyflix.in      
Construction Infrastructure and Mining News Platform – https://cimreviews.com/
General News Platform – https://ihtlive.com/
Podcast Platforms – https://anyfm.in