Masaba Gupta and Neena Gupta attempt to manage work and love in the teaser for Masaba Masaba 2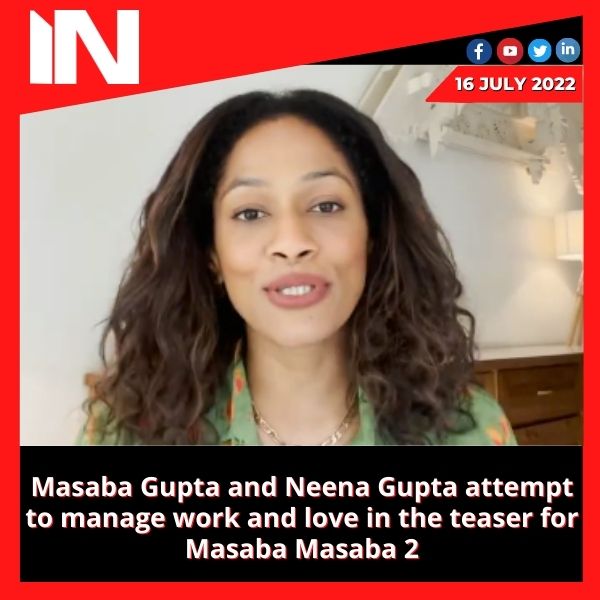 On July 29, Netflix will release Masaba Masaba season 2, bringing back Masaba Gupta and Neena Gupta. As they attempt to manage their job and love lives, the real-life mother-daughter team—who also portray mother and daughter in the web series—will encounter a new set of difficulties. On Saturday, the official trailer for the newest season of Masaba Masaba was released. She's been a princess, a queen, and now it's time for her to be a king, Masaba wrote in a caption for the photo she shared on Instagram.
In this lighthearted, fictitious look at Neena and Masaba's life in fashion and movies, they portray fictionalised versions of themselves. Masaba Gupta, an actor-designer who portrays a fashion designer in the series, is shown striving for both love and work as she confronts fresh highs and new lows in the nearly two-minute clip. She makes the claim that she wants "to be the king" quite early on in the trailer. She even informs Neena that she has made the decision that she would no longer have any males in her life—just work.
The designer is attempting to retake control of her personal life while creating a brand-new collection and navigating new (and previous) love interests. Armaan Khera's Fateh, her customer who flirts with her, is partnering Neil Bhoopalam's Dhairya Rana, her investor-turned-love interest, in trying to win over Masaba's affection. Masaba is creating the attire for his nuptials.
Neena is currently seeking an actor to play the opposite of her in a new programme in which she is the lead actor. Ram Kapoor enters. However, it appears that the two are involved in more than simply their jobs. Masaba advises Neena to get her hormones examined because she was acting "extremely thirsty" in a certain scene.
Sonam Nair is the director of the second season of the Netflix series. The new cast members are Kusha Kapila, Kareema Barry, and Barkha Singh in addition to Ram and Arman. Masaba Masaba's first season, which made its Netflix premiere in August 2020, was well-received by both critics and viewers.

Group Media Publications
Entertainment News Platforms – anyflix.in
Construction Infrastructure and Mining News Platform – https://cimreviews.com/
General News Platform – https://ihtlive.com/
Legal and Laws News Platforms – https://legalmatters.in/
Podcast Platforms – https://anyfm.in/
On social media, a sneak peek of the upcoming South Korean drama "A Good Day To Be A Dog" was posted.
The world of entertainment is always evolving, offering audiences fresh and captivating stories that transport them into different worlds. South Korean dramas, known for their emotional depth and engaging narratives, have gained global acclaim. A recent social media teaser for the upcoming drama "A Good Day To Be A Dog" has sent waves of excitement among fans, giving them a glimpse of what's in store.
The Intriguing Teaser: In an age where social media is a powerhouse of information and connection, entertainment content often finds its first showcase on these platforms. The teaser for "A Good Day To Be A Dog," the upcoming South Korean drama, was recently unveiled, providing a sneak peek into the storyline and characters that are set to capture viewers' hearts.
A Glimpse into the Plot: While the teaser doesn't reveal all the secrets, it hints at the essence of the drama. "A Good Day To Be A Dog" seems to revolve around the theme of relationships and transformation. The title itself alludes to a lighthearted yet intriguing premise, suggesting that the story might encompass both human and canine perspectives, exploring the complexities of love, emotions, and personal growth.
Promising Elements: With just a short teaser, audiences have already been captivated by several promising elements:
Mystery: The teaser's brief snippets offer a glimpse into the characters' lives without revealing too much, leaving viewers curious about the circumstances that will shape their journeys.
Emotional Depth: South Korean dramas are renowned for their ability to evoke deep emotions. The teaser's emotional undertones hint at the potential for heartwarming and heart-wrenching moments that the drama will deliver.
Character Dynamics: Even within the teaser's limited duration, the chemistry and dynamics between the characters are palpable. This suggests that the drama will delve into intricate relationships and interpersonal connections.
Visual Appeal: The teaser showcases visually appealing scenes and aesthetics, hinting at the attention to detail and cinematic quality that audiences can expect.
Social Media's Role in Building Anticipation: In the digital age, social media platforms have become essential tools for promoting and generating excitement for upcoming entertainment content. Teasers and trailers provide fans with a taste of what's to come, igniting discussions, speculations, and anticipation.
Group Media Publications
Entertainment News Platforms – anyflix.in      
Construction Infrastructure and Mining News Platform – https://cimreviews.com/
General News Platform – https://ihtlive.com/
Podcast Platforms – https://anyfm.in