Nimrit Kaur Ahluwalia talks about her brain burnout: People thought my personal life triggered it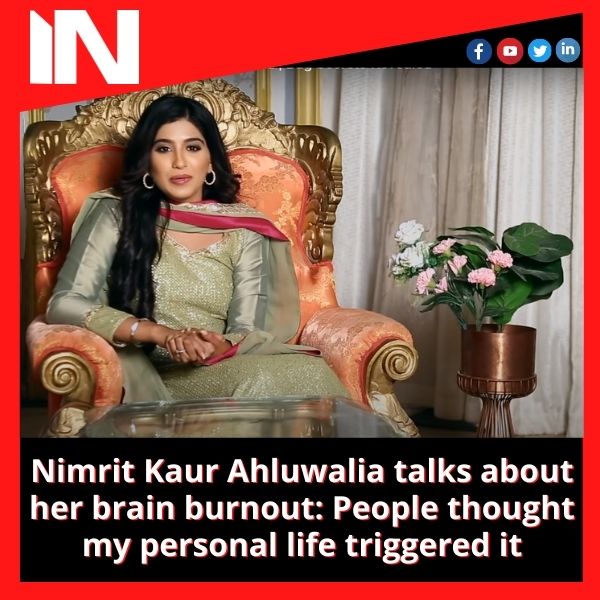 Actor Nimrit Kaur Ahluwalia took a 40-day vacation from her TV show in March 2021 before returning to it when her mental health had improved. People in the industry hailed her mid-show break from her debut programme, Chhoti Sardarni, to focus on her mental health as a brave step for a novice.
Kaur recalls how everyone around her was perplexed by her predicament. "The majority of people were unaware of what was happening. There is a dearth of knowledge regarding mental health. Terms like anxiety and sadness are well-known to everyone. I was identified as having brain exhaustion. Regarding what that is, everyone was utterly perplexed. They were making inferences that something was amiss in my personal life, which is why it was upsetting, she explains.
When reflecting on that trying time, Kaur adds, "I felt obliged to take the sabbatical when I took it (upon me). I was without a choice. The physicians informed me that I was unfit to work. It was more of a necessity than a choice.
"I'm not someone who shies away from hard work," Kaur continues. If you come from a middle-class household, working hard is in your blood. Your employment, however, cannot be your identity. You can't turn into a robotic puppet or machine.
After her show, Chhoti Sardarni, ended in June of this year, Kaur is currently in the US visiting her brother. She acknowledges that even she found it challenging to understand. "It took me a while to understand it" (it). My psychiatrist and I would talk about how I was feeling, and when he had explained it to me, I would start reading about it. I discovered that many people have, at some point in their life," she says.
But Kaur didn't give a damn about her image as she openly discussed her mental health struggles with her followers on social media. To be truthful about things is crucial. Even so, people categorise.
When you are confident in your ability to practise your art honestly, you don't mind or grow immune to it. I believed that I owed it to my devoted followers to be sincere. They ought to be aware of my route's speed bumps and downhills as well, she adds.
Group Media Publications
Entertainment News Platforms – anyflix.in
Construction Infrastructure and Mining News Platform – https://cimreviews.com/
General News Platform – https://ihtlive.com/
Legal and Laws News Platforms – https://legalmatters.in/
Podcast Platforms – https://anyfm.in/
Disha Parmar and Nakuul Mehta discuss working together again for Bade Achhe Lagte Hain 3 and other topics.
Title: Reunion of Talent: Disha Parmar and Nakuul Mehta Discuss Working Together Again for "Bade Achhe Lagte Hain 3" and More
Introduction: The television industry has been abuzz with excitement as Disha Parmar and Nakuul Mehta, two immensely talented actors, reunite for the highly anticipated show "Bade Achhe Lagte Hain 3." Their on-screen chemistry and exceptional performances in the past have won the hearts of audiences, making their collaboration once again a cause for celebration. Recently, Disha and Nakuul shared their thoughts on working together again, their experiences, and their future aspirations.
A Trip Down Memory Lane: "Bade Achhe Lagte Hain," the original series that captivated viewers, left an indelible mark on the hearts of millions. Disha Parmar and Nakuul Mehta played pivotal roles in the show's success with their nuanced performances as Priya and Ram, respectively. Their effortless chemistry and ability to bring their characters to life made the show an unforgettable experience for fans. Now, with the announcement of the show's third installment, viewers are eagerly awaiting their on-screen reunion.
A Reunion of Talent and Camaraderie: In a recent interview, Disha Parmar and Nakuul Mehta expressed their excitement and joy at the prospect of working together once again. They shared stories of their past experiences on the set of "Bade Achhe Lagte Hain" and how the show holds a special place in their hearts. The duo praised each other's professionalism and the strong bond they formed during their previous collaboration, making their reunion all the more special.
Exploring New Dimensions: While the return to "Bade Achhe Lagte Hain" is undoubtedly a much-anticipated event, Disha and Nakuul also discussed their aspirations to explore different genres and characters beyond their previous roles. They expressed their desire to push boundaries and challenge themselves as actors, eager to embark on new projects that offer diverse and exciting opportunities for growth.
Fans' Anticipation: The announcement of Disha Parmar and Nakuul Mehta's reunion has sparked a wave of anticipation among fans. Social media platforms are buzzing with excitement as viewers eagerly await the return of their favorite on-screen pair. The fans' unwavering support and love have been a driving force for Disha and Nakuul, inspiring them to give their best performances and create magic on screen once again.
A Promising Future: As Disha Parmar and Nakuul Mehta prepare to step into their respective characters for "Bade Achhe Lagte Hain 3," the duo is poised to deliver yet another memorable performance. Their talent, combined with the creative vision of the show's makers, promises an engaging and entertaining experience for viewers. The audience can look forward to witnessing the evolution of these exceptional actors as they breathe life into new narratives and explore the depths of their characters.
Conclusion: The reunion of Disha Parmar and Nakuul Mehta for "Bade Achhe Lagte Hain 3" is a moment of excitement and nostalgia for both the actors and their fans. Their on-screen chemistry and remarkable performances have left an indelible impression in the minds and hearts of viewers. As they embark on this new journey together, audiences eagerly await their captivating performances and the magic they will create once again. With their shared talent and passion for their craft, Disha and Nakuul are poised to deliver yet another exceptional television experience that will be etched in the annals of television history.
Group Media Publications
Entertainment News Platforms – anyflix.in
Construction Infrastructure and Mining News Platform – https://cimreviews.com/
General News Platform – https://ihtlive.com/
Podcast Platforms – https://anyfm.in