Peaky Blinders Season 6 Review: In an epic series conclusion, Cillian Murphy's Thomas Shelby comes 'full circle.'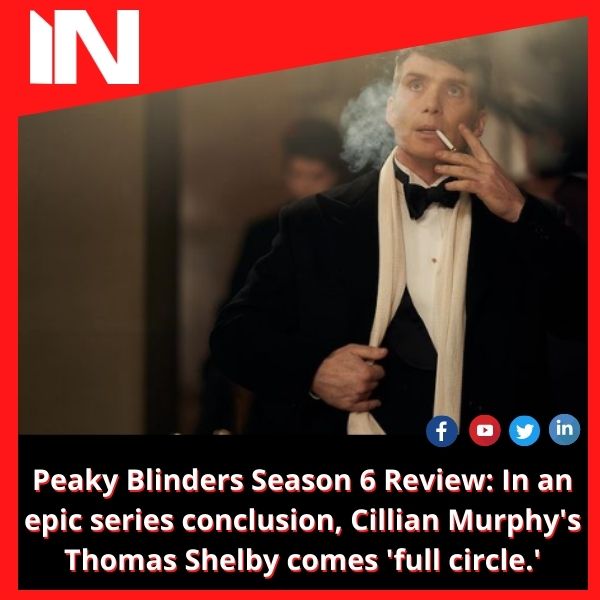 If you've followed Peaky Blinders over its six seasons, the last act of the acclaimed BBC series seems fitting given how it all began. The Shelby family has gone through several phases over the years, from beginning as a street gang in Birmingham to usurping the top spot among Britain's most powerful people because to the ambition of one man, Thomas Shelby (Cillian Murphy). However, it is Tommy's way of dealing with his internal demons, the haunting memories of the war that he chooses to hide with the greed of ambition and the building of a legacy, rather than power and money.
Despite the fact that his mental health has been an issue since we first met him, Tommy (Murphy) is at his most vulnerable and shattered in the final season. We see him avoid death on several occasions during the seasons, and it nearly makes us forget that he is, in the end, a mortal man, which the final season serves as a reminder of as he battles his emotional and physical strength in the last act. While one may expect the last season of the programme to be melancholy as it draws to a close, it turned out to be much more sombre than we expected, given actress Helen McCrory's death last year, which caused the show's cancellation.
The sixth season of the programme begins in 1933, four years after the fifth season finished with a botched murder attempt on fascist leader Oswald Mosely (Sam Claflin). In 1933, we encounter a different Tommy (Cillian Murphy), who has given up booze in an effort to rid his mind of the gloomy thoughts that have plagued him since Polly's death (McCrory). This time, he's launching an opium import/export business out of Canada, and he's enlisting the help of his uncle Jack (James Frecheville), whose niece Gina (Anya Taylor-Joy) is married to Michael Grey (Finn Cole). Tommy is fighting with opponents not only from the outside, but also from inside the family, as Michael seeks vengeance on him, blaming him for his mother Polly's death. Due to his severe drug addiction, Arthur Shelby (Paul Anderson) is unable to exercise any authority or accept any responsibility at Shelby Company. This season, it's the women who are the most sane, whether it's Ada (Sophie Rundle), who appears to be the ideal candidate to take over the Shelby firm after Tommy, or Lizzie (Natasha O'Keeffe), who tries to be Tommy's compass whenever he gets lost. Lady Diana Mitford (Amber Anderson), Mosely's (Sam Claflin) girlfriend and a new addition to the series, is also a new addition to the series.
With the sixth and final season of the show, creator Steven Knight crafts a plot that seamlessly bridges historical themes with the show's customary gangster drama mood. With or without Whiskey, Thomas Shelby's character continues to hold sway over the season as he becomes embroiled with fascist leaders during a period that is emotionally draining for him personally. It's the tiny details in this season that create a strong impact such as Arthur once again being unable to be the shoulder of support that Tommy needs. There's also a lovely scene between the brothers in a wine cellar, where they reminisce about Tommy's early rise to power in the Shelby household. Deaths, prophecies, and emotional turmoil
Peaky Blinders is infamous for its brutal violence and the gloom and doom that descend upon the streets of Small Heath, Birmingham whenever the Shelby family steps out, and the final season doesn't miss out on giving us more of the same. Tommy may be an MP and an OBE now, but he's still a Peaky Blinder at heart, as evidenced by his famous quote from the series, "By order of The Birmingham Urban District Council." In many ways, Peaky Blinders characters are similar to those of Ozark, despite the lack of historical connections and time period. They are motivated by a desire to wield power that stems from their traumatic pasts.
Peaky Blinders' performances have only gotten better with each season, and they've remained top-notch all the way to the conclusion. With an exceptional talent, Cillian Murphy brings Tommy Shelby's damaged yet formidable version to the film. As the unhappy Arthur Shelby, Paul Anderson gives a heartbreaking performance. The most amazing performances in the final season, though, come from Sophie Rundle as Ada and Natasha O'Keeffe as Lizzie, who become the Shelby family's foundations in the most unexpected manner. In the final season, Tom Hardy makes a memorable cameo as Alfie Solomons. Peaky Blinders' music and cinematography are another feature of the show that has remained its strongest element even in its last season. Tommy Shelby's persona should be remembered for one scene in particular: when he blows up his mansion and walks away with nothing but a cigarette in his lips.
Without giving anything away, the ending of Peaky Blinder appears to be a full circle moment for Tommy Shelby. It's a kind of self-realization for him, as he finally sees his future beyond the ashes and flames that have been haunting him all along. In many respects, he's mortal, but in others, he's immortal. Tommy's final shot is likewise identical to the one that opened the series.
anyflix.in                Group Media Publications
Construction Infrastructure and Mining News Platform – https://cimreviews.com/
General News Platform – https://ihtlive.com/
Legal and Laws News Platforms – https://legalmatters.in/
Podcast Platforms – https://anyfm.in/
At an event, Rupali Ganguly touches an experienced journalist's foot, to which the audience responds, "Success has not changed her."
Actress Rupali Ganguly is gaining popularity online after a video of her from an event went viral. The Anupamaa actress appeared to present veteran journalist Chaitanya Padukone with an award at the Expandable Awards. She touched his feet after presenting him with the prize and introduced her on-screen persona to the audience.
Rupali wore a purple sari with shine to the occasion. She knelt down in the video and brushed the journalist's feet, asking for his blessing. Chaitanya appeared overwhelmed in reaction. An account belonging to a paparazzi has uploaded the video.
"Rupali is extremely down to earth," a user commented in response to it in the comment area. Success hasn't altered her because she was raised by the fantastic director and all-around positive person Anil Ganguly, whose home she grew up in. I grew up watching all of his movies, so that is undoubtedly where it all begins. Another person said, "Ise bolte hain Asli Sanskaar (this is referred to as authentic culture)"
"That's why Rupali mam is so successful and widely known, down to earth and never leave her root," another person added. Rupali was referred to as "grace" by filmmaker Ram Kamal Mukherjee in the comments section.
Rupali began her acting career as a child performer and later achieved recognition as the lead in the television series Sarabhai vs. Sarabhai, in which Ratna Pathak Shah co-starred as Monisha Sarabhai. She later became a celebrity of television programmes like Baa Bahoo Aur Baby and Parvarrish – Kuchh Khattee Kuchh Meethi.
Currently, Rupali is portraying the Gujarati homemaker Anupamaa in the lead character of the television series Anupamaa. It is one of the most watched serials on Star Plus. Rupali recently shared her thoughts on the show in response to complaints from viewers regarding the length of her monologues.
She said, "Fans ki baatein sar aankhon par (I will always put my fans' needs first)" to Pinkvilla. My creators are quite aware of the message they want to get across with Anupamaa. Regardless of what he (producer Rajan Shahi) has envisioned for Anupamaa to do, I shall strive to express it with all of my passion. I'll give it my all and do it to the best of my skills.
Group Media Publications
Entertainment News Platforms – anyflix.in
Construction Infrastructure and Mining News Platform – https://cimreviews.com/
General News Platform – https://ihtlive.com/
Podcast Platforms – https://anyfm.in