Review of "Victim": Pa Ranjith's suspenseful short stands out in the anthology thriller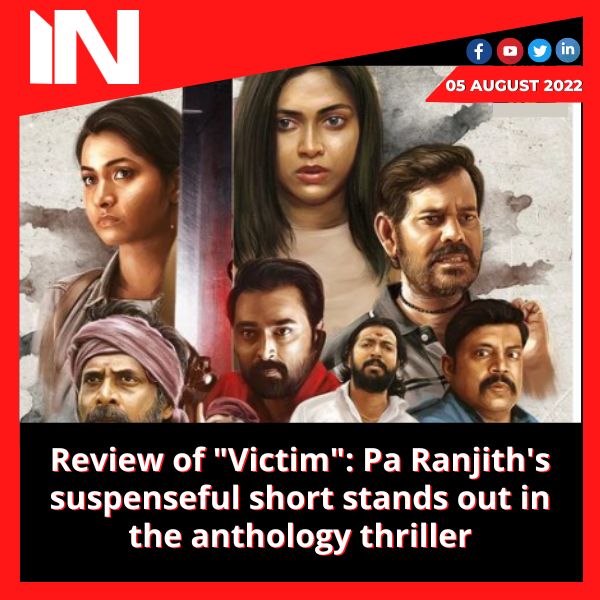 Victim, an anthology series from Sony Liv, explores the stories of four different victims. One has the impression that the series, which was directed by Pa Ranjith, Venkat Prabhu, Rajesh M, and Chimbu Deven, could have been much more since only two of the shorts make a significant impression. Ranjith's short on land and its politics stands out among the rest because it is both hard-hitting and deeply moving while occasionally being squeamish. The second-best segment is by Venkat Prabhu, and despite stealing much of its basic plot from Joel Schumacher's Phone Booth, it mostly succeeds. Two additional short films by Rajesh M. and Chimbu Deven are awful.
In the lead roles of Pa Ranjith's Dhammam are Kalaiarasan and Guru Somasundaram. Ranjith is still an advocate for caste-based narratives, but this time he is concentrating on land politics. A middle-aged father and his adolescent daughter, who are busy preparing their small plot of agricultural land for the harvest season, are the main characters of the story. The father is forced to bear the costs when a dispute with the owner of the nearby acres of land gets out of hand. This beautifully filmed segment about how land still shapes a person's identity is powerful. It explains how people display their caste and power pride without ever considering the repercussions. Dhammam stands out due to the realistic performances, particularly the action scenes in the farmland.
Kottai Pakku Vathalum Mottai Madi Sitharum by Chimbu Deven is an intriguing fantasy comedy that explores our uncritical faith in deities. This story might have worked better as a stand-alone movie with stronger writing. However, as a part of this anthology thriller, it hardly even scratches the surface. The short, which stars Thambi Ramaiah and Nasser, examines how someone's desperation can cause us to lose the ability to distinguish between reality and illusion.
Mirrage by Rajesh M. is unquestionably the weakest short in the collection. The story revolves around a young girl (Priya Bavani Shankar), who is compelled to spend the night in an abandoned villa that her company has reserved.
She quickly begins to encounter some paranormal activity in the villa, and as she struggles to make sense of the situation, the plot twists and turns. This short's conclusion demonstrates why most thrillers no longer engage audiences when they are taken for granted.
The basic plot of Venkat Prabhu's Confession, which stars a vivacious Amala Paul and Prasanna, is taken from Joel Schumacher's Phone Booth. The performances help this short succeed to a large extent despite the recycled plot idea. As a driven young woman living life on her terms, Amala is very at ease. The short film looks at how quickly we form judgments about those around us based solely on appearance.
Group Media Publications
Entertainment News Platforms – anyflix.in
Construction Infrastructure and Mining News Platform – https://cimreviews.com/
General News Platform – https://ihtlive.com/
Legal and Laws News Platforms – https://legalmatters.in/
Podcast Platforms – https://anyfm.in/
Watch Vicky Kaushal blush when Katrina Kaif.
Title: Vicky Kaushal's Blushing Affection: Fans Bring Up Katrina Kaif During the "Zara Hatke Zara Bachke" Promotions
Introduction: The world of Bollywood is always abuzz with gossip and speculation, especially when it comes to celebrity relationships. Recently, during the promotional events for the film "Zara Hatke Zara Bachke," fans managed to put Vicky Kaushal in a rather adorable spot by mentioning his rumored romantic interest, Katrina Kaif. The actor's blushing response and the ensuing excitement among fans added a touch of sweetness and intrigue to the film's promotions.
Fans' Curiosity: As Vicky Kaushal stepped out to promote his latest project, "Zara Hatke Zara Bachke," fans couldn't resist bringing up the topic of his alleged relationship with Katrina Kaif. The couple's rumored romance has been the subject of much speculation in the media and has piqued the curiosity of fans worldwide. During various interactions, fans took the opportunity to tease Vicky and observe his reaction when Katrina's name was mentioned.
Vicky's Blushing Affection: Much to the delight of fans, Vicky Kaushal couldn't hide his blushing smile when Katrina Kaif's name came up during the promotions. Despite maintaining a certain level of privacy about their personal lives, Vicky's reaction spoke volumes about his affection for the Bollywood diva. His genuine blush and sheepish smile instantly became a viral moment, capturing the attention of fans and adding an element of charm to the film's promotions.
The Power of Speculation: Celebrity relationships have long been a source of fascination for fans, and the Vicky Kaushal-Katrina Kaif pairing is no exception. The duo's alleged romance has sparked a wave of speculation and has fans eagerly awaiting any confirmation or denial from the actors themselves. The excitement surrounding their possible relationship has not only fueled curiosity but has also propelled the film's promotions to new heights.
Maintaining Privacy: Despite the constant scrutiny and interest in their personal lives, both Vicky Kaushal and Katrina Kaif have been relatively private about their relationship status. They have chosen to let their work and performances speak for themselves, keeping their personal lives away from the prying eyes of the media. This discretion has only added to the allure and intrigue surrounding their rumored romance, leaving fans eagerly anticipating any official statement or revelation.
Fans' Reactions: The adorable moment of Vicky Kaushal blushing when Katrina Kaif's name was mentioned quickly spread across social media platforms. Fans couldn't help but swoon over the actor's genuine reaction, expressing their excitement and support for the potential couple. Memes, fan art, and heartwarming messages flooded the internet, showcasing the extent of fans' enthusiasm and affection for the duo.
Looking Ahead: As Vicky Kaushal continues his promotional journey for "Zara Hatke Zara Bachke," fans eagerly anticipate any further interactions or revelations between him and Katrina Kaif. The duo's undeniable chemistry, both on and off-screen, has only fueled the curiosity surrounding their relationship. Whether they choose to keep their personal lives private or make an official announcement, fans remain dedicated and excited to witness their favorite actors' journey, both professionally and personally.
Conclusion: The promotion of "Zara Hatke Zara Bachke" became even more exciting as fans playfully brought up Katrina Kaif's name to observe Vicky Kaushal's blush-inducing response. The actor's heartfelt reaction delighted fans and added a touch of sweetness to the promotional events. While Vicky and Katrina choose to maintain their privacy, their rumored romance continues to captivate fans, who eagerly await any confirmation or further glimpses into their relationship. As the promotional journey unfolds, fans will continue to.
Group Media Publications
Entertainment News Platforms – anyflix.in
Construction Infrastructure and Mining News Platform – https://cimreviews.com/
General News Platform – https://ihtlive.com/
Podcast Platforms – https://anyfm.in