Review of the film Ishq Pashmina: This cliched and trite love story would have worked in the 1970s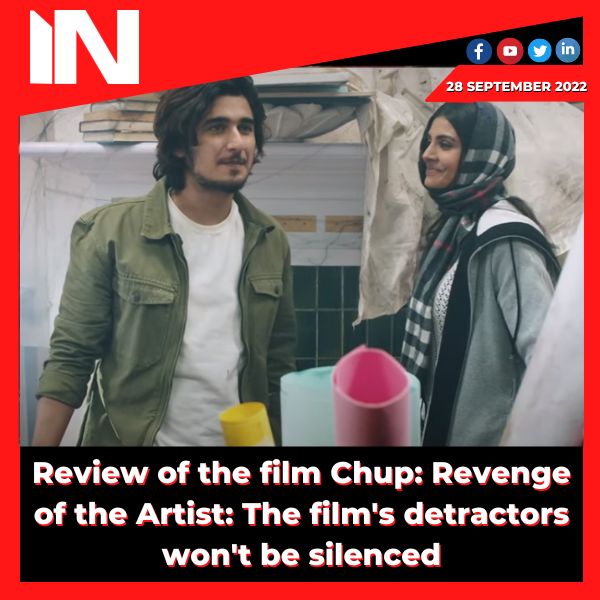 Review of the film Ishq Pashmina: This cliched and trite love story would have worked in the 1970s
It is a love story set in the chilly mountains of Shimla, the Ishq Pashmina Story. Omisha becomes Karan's carer, and love blossoms. However, fate has other ideas for each of them.
Review of Ishq Pashmina: Many things can be inferred when the producer's name appears last and is followed by the director's name in the opening credits, and one common logical conclusion is that commerce undoubtedly has an advantage over art. This romantic drama in some ways supports this viewpoint. The love story "Ishq Pashmina" might have been popular in the 1970s, but things have changed in the new millennium. This romance drama is a cliched, cheesy love story.
The main character of the movie is Karan (Bhavin Bhanushali), who was blinded in an accident and is now cared for by his affluent mother (Zarina Wahab). Omisha (Malti Chahar), a worker at a radio station, fills in for Karan's caretaker when he quits because of his aggressiveness. Slowly but surely, love grows between the two. Omisha makes every effort to guarantee that Karan gets back his life, but she can only feel his consoling words. When Karan eventually regains his vision, he is aware of a few truths.
Although Shimla is a beautiful background for a love story, the love story itself is by all accounts uninteresting. The writing never provides opportunities to make it intense. The proceedings appear uninteresting and shallow to viewers. After the break, the plot quickens as Karan's mother is killed and the estate manager seeks to seize control of the house. One does, however, ask how these developments contribute to and further the love tale.
In one scene, Bhavin addresses the boss and the housekeeper in turn, asking, "Pyar kya hota hai?" While it appears to be a comedic sequence—as the movie also intends—it actually serves to highlight the plot's weariness. Malti's performance, which has some sense of honesty, outperforms Bhavin's performance as Karan, which is at best acceptable. This romance is cynical and uninteresting.
Group Media Publications
Entertainment News Platforms – anyflix.in      
Construction Infrastructure and Mining News Platform – https://cimreviews.com/
General News Platform – https://ihtlive.com/
Legal and Laws News Platforms – https://legalmatters.in/
Podcast Platforms – https://anyfm.in/
Jr NTR fans burn firecrackers during Simhadri re-release.
Jr NTR, the popular Telugu film actor, has an ardent fan following known for their unwavering support and enthusiasm. However, a recent incident during the re-release of Jr NTR's blockbuster film Simhadri has caused controversy. Fans celebrated the occasion by igniting firecrackers, leading to a heated debate about public safety, environmental concerns, and responsible fandom. In this blog post, we will explore the incident, its implications, and the need for balanced fan celebrations.
The Re-Release of Simhadri: Simhadri, a 2003 Telugu action-drama film, remains one of Jr NTR's most beloved movies. To commemorate its anniversary, the producers decided to re-release the film, allowing fans to relish the nostalgia and experience the magic on the big screen once again. The announcement generated excitement and anticipation among Jr NTR's loyal fan base.
Fan Celebration Gone Awry: In their eagerness to celebrate the re-release of Simhadri, a section of Jr NTR's fans resorted to lighting firecrackers outside theaters. The loud explosions and billowing smoke alarmed moviegoers and nearby residents, leading to complaints and safety concerns. The incident drew criticism from various quarters, sparking a debate about responsible fandom and the need for considering public safety and environmental consequences.
The Importance of Responsible Fandom: Fans play a significant role in an actor's success, and their enthusiasm can bring immense joy to the celebrity they adore. However, it is essential for fans to remember that their actions should be responsible and respectful towards others. Expressing support and admiration should not come at the cost of causing inconvenience, harm, or damage to the surroundings.
Public Safety and Environmental Concerns: The incident of firecrackers being ignited during the Simhadri re-release raises important concerns regarding public safety and environmental impact. Firecrackers, besides being noisy, can also be hazardous and pose a risk to people's well-being, especially in crowded areas. Additionally, the environmental implications of such celebrations, including air and noise pollution, cannot be ignored.
Promoting Positive Fan Culture: While celebrating the achievements and milestones of their favorite stars, fans have the power to shape public perception. It is crucial for fan clubs and individuals to encourage positive fan culture, emphasizing activities that are inclusive, respectful, and beneficial for society. Non-disruptive celebrations such as charity events, social initiatives, and fan gatherings can foster a sense of unity and promote a positive image of fandom.
Fans can channel their enthusiasm in more responsible ways, such as organizing special screenings, conducting charity drives, or engaging in community service projects. By focusing on these avenues, fans can create a positive impact while celebrating their favorite stars without causing harm, inconvenience, or violating safety protocols.
The incident of Jr NTR fans igniting firecrackers during the re-release of Simhadri raises important questions about responsible fandom, public safety, and environmental concerns. While fans' enthusiasm is commendable, it is crucial for them to celebrate in a manner that respects the well-being of others and the environment. By promoting a culture of responsible fandom, fans can ensure that their admiration for their favorite stars does not overshadow the importance of public safety and environmental sustainability.
The director's passing this morning came as a shock to Rani Mukerji, who worked with him on Laaga Chunari Mein Daag and Mardaani. They had been planning to meet up shortly. Sarkar, who is best known for helming the 2005 drama Parineeta, passed away at Lilavati hospital in Mumbai's Bandra area, according to his wife Panchali. He was 67.
ADVERTISEMENT
about:blank
Group Media Publications
Entertainment News Platforms – anyflix.in
Construction Infrastructure and Mining News Platform – https://cimreviews.com/
General News Platform – https://ihtlive.com/
Podcast Platforms – https://anyfm.in