Review of the third season of Tripling: This Sumeet Vyas production is a pleasant, energising emotional roller coaster.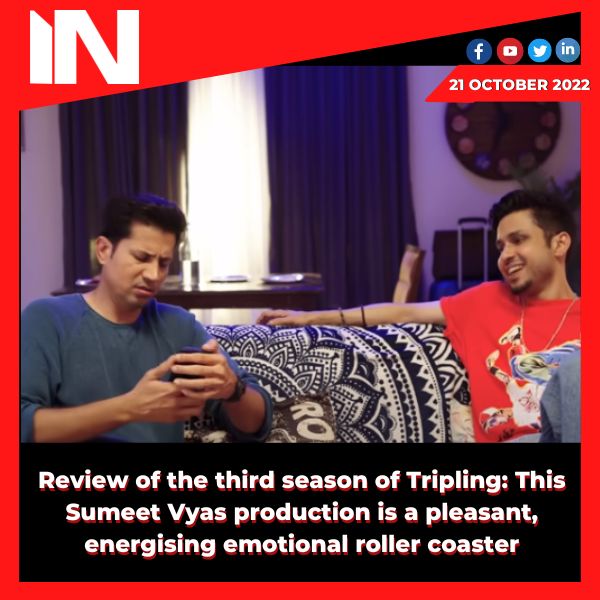 With a new season, Tripling and the trio of on-screen brothers Chandan, Chanchal, and Chitvan are back. This one is more of an emotional roller coaster than the one it is renowned for, which has unexpected twists, amusing scenarios, and comedy. The ZEE5 series proves to be an emotional eye-opener that strikes the emotional chord in unexpected ways as the siblings try to deal with the new issue in addition to their own ongoing problems. For a change, this one can be confidently suggested as a family-friendly film that is best enjoyed with one's parents, siblings, or young children.
Lead actor Sumeet Vyas takes control of the show once more as a co-writer after two seasons of success helped him build a fan base. In the midst of their individual worlds being rocked by the news that his parents are intending to separate after 36 years of marriage, he reunites with his siblings Chanchal (Maanvi Gagroo) and Chitvan (Amol Parashar). They quickly fly to their family home in the hills to have the conversation with their parents and explain their decision to end everything. To convince their kids and the audience to comprehend their decision to separate, it takes five episodes, a jungle journey, and a high-pitched pep talk in the climax.
The programme also serves as a sobering reminder to the Y generation that while they aspire to live independent lives free from conventional attitudes, are they really prepared to deal with their parents' odd thoughts or decisions? Are grandparents expected to merely smile in family photos and wish the children well when they make their own decisions? The parents of the siblings show people their age and the present generation that living until death is not the only goal of life that living forever for the happiness of the children is not. Kumud Mishra and Shernaz Patel portray a nearly perfect pair who are good parents who barely ever question the choices their independent children make. But if the same children expect them to be together just for the sake of them, they do not shy away from setting the record straight.
Though they are relatively few in quantity, the show nonetheless features new situational humour and humorous situations, staying loyal to the Tripling premise. Without falling short, Kunal Roy Kapur provides enough to keep the presentation fun and exciting. Additionally, he gets to play the role of the hero in the dramatic finale. The siblings continue to communicate with one another as usual during this season. This time, Amol Parashar emerges as a revelation since he is not in the mood to make crude jokes and is instead dealing with the sorrow of being apart from a child who is not even his own blood.
With a strong amount of humour and a family-friendly theme, the third season of Tripling can be safely compared to other popular family comedies like Gullak. The series also demonstrates that if the substance is worth the wait, the length of time between instalments may not matter. Even though they appear to be getting older and more mature, the three siblings are still closer than ever even after three years. Don't overlook how Kumud Mishra and Shernaz Patel's on-screen chemistry melts hearts; they are among the underappreciated group of middle-aged actors we can't get enough of.
Group Media Publications
Entertainment News Platforms – anyflix.in
Construction Infrastructure and Mining News Platform – https://cimreviews.com/
General News Platform – https://ihtlive.com/
Legal and Laws News Platforms – https://legalmatters.in/
Podcast Platforms – https://anyfm.in/
Jr NTR fans burn firecrackers during Simhadri re-release.
Jr NTR, the popular Telugu film actor, has an ardent fan following known for their unwavering support and enthusiasm. However, a recent incident during the re-release of Jr NTR's blockbuster film Simhadri has caused controversy. Fans celebrated the occasion by igniting firecrackers, leading to a heated debate about public safety, environmental concerns, and responsible fandom. In this blog post, we will explore the incident, its implications, and the need for balanced fan celebrations.
The Re-Release of Simhadri: Simhadri, a 2003 Telugu action-drama film, remains one of Jr NTR's most beloved movies. To commemorate its anniversary, the producers decided to re-release the film, allowing fans to relish the nostalgia and experience the magic on the big screen once again. The announcement generated excitement and anticipation among Jr NTR's loyal fan base.
Fan Celebration Gone Awry: In their eagerness to celebrate the re-release of Simhadri, a section of Jr NTR's fans resorted to lighting firecrackers outside theaters. The loud explosions and billowing smoke alarmed moviegoers and nearby residents, leading to complaints and safety concerns. The incident drew criticism from various quarters, sparking a debate about responsible fandom and the need for considering public safety and environmental consequences.
The Importance of Responsible Fandom: Fans play a significant role in an actor's success, and their enthusiasm can bring immense joy to the celebrity they adore. However, it is essential for fans to remember that their actions should be responsible and respectful towards others. Expressing support and admiration should not come at the cost of causing inconvenience, harm, or damage to the surroundings.
Public Safety and Environmental Concerns: The incident of firecrackers being ignited during the Simhadri re-release raises important concerns regarding public safety and environmental impact. Firecrackers, besides being noisy, can also be hazardous and pose a risk to people's well-being, especially in crowded areas. Additionally, the environmental implications of such celebrations, including air and noise pollution, cannot be ignored.
Promoting Positive Fan Culture: While celebrating the achievements and milestones of their favorite stars, fans have the power to shape public perception. It is crucial for fan clubs and individuals to encourage positive fan culture, emphasizing activities that are inclusive, respectful, and beneficial for society. Non-disruptive celebrations such as charity events, social initiatives, and fan gatherings can foster a sense of unity and promote a positive image of fandom.
Fans can channel their enthusiasm in more responsible ways, such as organizing special screenings, conducting charity drives, or engaging in community service projects. By focusing on these avenues, fans can create a positive impact while celebrating their favorite stars without causing harm, inconvenience, or violating safety protocols.
The incident of Jr NTR fans igniting firecrackers during the re-release of Simhadri raises important questions about responsible fandom, public safety, and environmental concerns. While fans' enthusiasm is commendable, it is crucial for them to celebrate in a manner that respects the well-being of others and the environment. By promoting a culture of responsible fandom, fans can ensure that their admiration for their favorite stars does not overshadow the importance of public safety and environmental sustainability.
The director's passing this morning came as a shock to Rani Mukerji, who worked with him on Laaga Chunari Mein Daag and Mardaani. They had been planning to meet up shortly. Sarkar, who is best known for helming the 2005 drama Parineeta, passed away at Lilavati hospital in Mumbai's Bandra area, according to his wife Panchali. He was 67.
ADVERTISEMENT
about:blank
Group Media Publications
Entertainment News Platforms – anyflix.in
Construction Infrastructure and Mining News Platform – https://cimreviews.com/
General News Platform – https://ihtlive.com/
Podcast Platforms – https://anyfm.in