Santosh Narayanan refers to Enjoy Enjaami as "a collective effort" and claims that he wrote it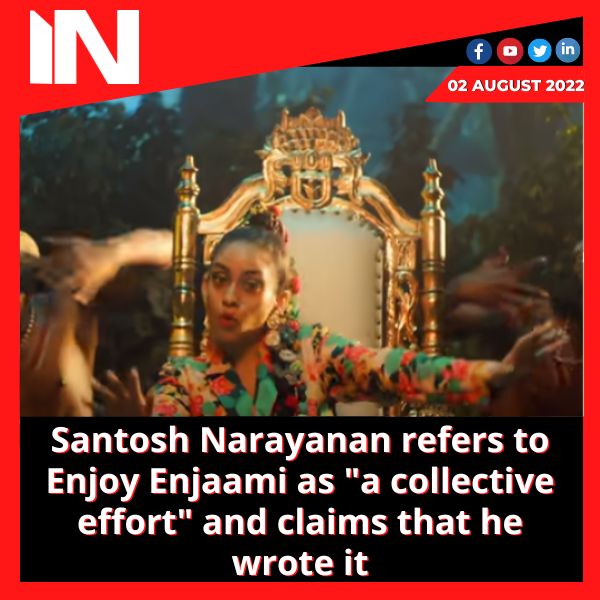 Arivu, a singer, writer, and rapper, made claims that he was not given credit for the popular Tamil song Enjoy Enjaami when it was performed live a few days ago at the 44th Chess Olympiad. Music composer Santosh Narayanan has responded to these claims. Arivu revealed his exclusion in an Instagram post on Monday and claimed responsibility for writing, performing, and composing the song.
In a two-page statement responding to Arivu's accusations, Santosh referred to Enjoy Enjaami as "a team effort." He continued by saying he wrote the popular song. "Dhee had the idea for a song that praised our heritage and the natural world in December 2020. After that, I co-sang, co-arranged, co-programmed, and recorded Enjoy.
Enjoy Enjaami was composed by Santosh Narayanan, according to the emcee at the Chess Olympiad opening ceremony; Arivu was not even asked to perform. "We decided to have each artist contribute a tune or a verse to the song rather than just having them perform on Enjoy Enjaami. While Dhee and Arivu agreed to sing the song, they both contributed to its conception. Many of her lines' melodies were co-composed by Dhee and Arivu, who also agreed to write the lyrics. Santosh continued, "I composed the remainder of the tune as well as Arivu's portions.
Santosh thanked writer-director Manikandan in the statement for "carefully selecting the foundation of the lyrics for this song and spending so many hours with Arivu to create a flow and script for the song lyrics as well as inspiring him with so many real-life stories and cultural history."
Arivu's absence from the Enjoy Enjaami performance at the Chess Olympiad, according to Santosh, was due to his being abroad; the organisers were informed of this. The performance included his recording.
Group Media Publications
Entertainment News Platforms – anyflix.in
Construction Infrastructure and Mining News Platform – https://cimreviews.com/
General News Platform – https://ihtlive.com/
Legal and Laws News Platforms – https://legalmatters.in/
Podcast Platforms – https://anyfm.in/
SEVENTEEN's album teaser kicks off SEVENTEENTH HEAVEN with fun and festive vibes
For fans of K-pop, SEVENTEEN needs no introduction. The thirteen-member boy group from South Korea has taken the music industry by storm with their incredible talent, versatility, and charisma. As anticipation builds for their upcoming album "SEVENTEENTH HEAVEN," the group recently released a teaser that promises an exciting and festive musical journey. Let's delve into what makes SEVENTEEN's album teaser a cause for celebration and why fans are eagerly awaiting the full release.
A Journey of Musical Evolution:
SEVENTEEN has consistently delivered fresh and innovative music throughout their career. From their debut with "Adore U" to their more recent hits like "HOME;RUN," the group has showcased their musical growth and versatility. "SEVENTEENTH HEAVEN" appears to be another significant step in their musical evolution.
The Teaser: Fun and Festive Vibes:
The album teaser for "SEVENTEENTH HEAVEN" kicks off the excitement with a burst of colorful visuals and upbeat sounds. Here's what stands out in the teaser:
Bright and Playful Aesthetics: The teaser immediately grabs your attention with its vibrant and playful aesthetics. It's filled with vivid colors, eye-catching costumes, and a whimsical setting that hints at a joyful and celebratory theme.
Catchy Melodies: SEVENTEEN is known for their catchy melodies, and the teaser doesn't disappoint in that department. The snippet of music in the teaser is both infectious and lively, setting the stage for an album that's bound to get listeners dancing and singing along.
Group Chemistry: SEVENTEEN's greatest strength lies in the camaraderie and chemistry among its members. The teaser showcases their unity as they come together to deliver a performance that radiates energy and enthusiasm.
Mystery and Excitement: While the teaser provides a taste of what's to come, it also leaves room for anticipation and curiosity. Viewers are left wanting more, eager to explore the full range of songs and concepts that "SEVENTEENTH HEAVEN" will offer.
Why Fans Are Excited:
SEVENTEEN has a dedicated fanbase known as "Carats," and they are known for their unwavering support and enthusiasm. Here's why fans are particularly excited about "SEVENTEENTH HEAVEN":
Fresh Concept: The teaser hints at a concept that is different from their previous releases, adding an element of surprise and freshness for fans.
SEVENTEEN's Versatility: Fans know that SEVENTEEN is capable of delivering a wide range of music, from emotional ballads to high-energy bangers. This diversity keeps fans engaged and eager to see what the group will explore next.
Quality Production: SEVENTEEN is known for their top-tier production values in terms of music videos, choreography, and overall presentation. Fans expect nothing but the best from the group, and the teaser promises just that.
SEVENTEEN's album teaser for "SEVENTEENTH HEAVEN" is a delightful preview of the festive and fun vibes that the group has in store for their fans. As anticipation continues to build, "Carats" around the world are eagerly counting down the days until the full album release. SEVENTEEN's ability to consistently surprise and delight their audience with their music and performances is a testament to their enduring appeal and talent. "SEVENTEENTH HEAVEN" is poised to be another exciting chapter in the group's illustrious career, and fans can't wait to experience the full musical journey it has to offer.
Group Media Publications
Entertainment News Platforms – anyflix.in      
Construction Infrastructure and Mining News Platform – https://cimreviews.com/
General News Platform – https://ihtlive.com/
Podcast Platforms – https://anyfm.in