Finally explaining his decision to delete his Instagram posts, Adnan Sami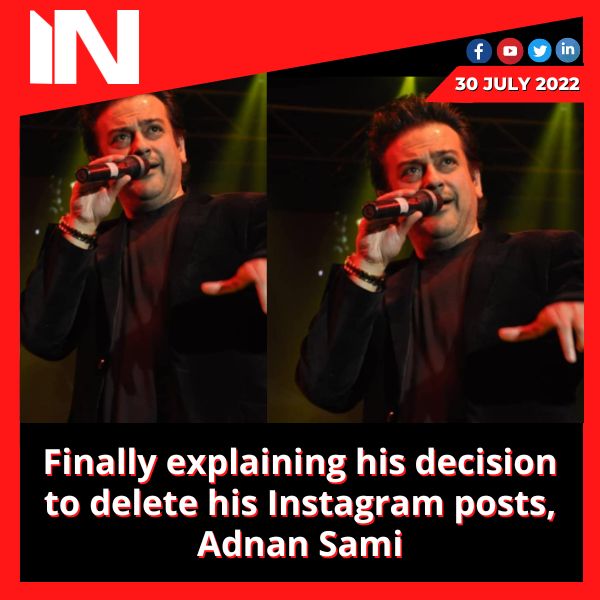 Adnan Sami has finally explained why he recently deleted all of the posts from his Instagram account, shocking his followers. Adnan shared a video after leaving his profile blank and using the username "Alvida" (Goodbye). A new song called Alvida and its music video were released a short while later.
When asked why he deleted his Instagram posts, which worried many of his fans, Adnan said that the inspiration came from his most recent physical change. The musician explained that while the concept might have been clever or stupid, his intention was to show how much he had changed. He also expressed shock at how the public reacted to his action.
Call it clever or stupid, but Adnan told ETimes that the inspiration for deleting all of his social media posts came from his recent physical change. The pandemic made us all reevaluate our priorities… I made the decision to pick up music again. This decision to change resulted from both my physical and mental transformations. I wanted to concentrate on making music that was melodic. For this reason, I also changed my Instagram name to Adnan 2.0. I decided to archive all of my posts on social media because this process of change had inspired me to think it would be a good idea to declutter there.
Adnan also clarified that, contrary to appearances, he has simply archived his posts rather than deleting them all. Adnan remarked, "For heaven's sake, if I intended to jump off the ledge and commit suicide, I would've just written the word 'alvida' in a caption," in response to the alarmed reactions from his fans. I wouldn't have had a stylized logo made with the word alvida's letters fading in on the screen. I wouldn't take the time to make the announcement aesthetically pleasing and cinematic if I had to commit suicide.
All the messages that the fans left for him to cheer him up after the incident, however, provided reassurance for Adnan. On Thursday, July 28, he made Alvida, a brand-new song, available. He was also present in the music video of the song.
Group Media Publications
Entertainment News Platforms – anyflix.in
Construction Infrastructure and Mining News Platform – https://cimreviews.com/
General News Platform – https://ihtlive.com/
Legal and Laws News Platforms – https://legalmatters.in/
Podcast Platforms – https://anyfm.in/
Sweet Britney Spears': Pink modifies the song's lyrics in support of the performer who is going through a divorce from her husband Sam Asghari
In the ever-evolving landscape of the music industry, artists often transcend their roles as mere entertainers to become symbols of empowerment, solidarity, and support. Recently, pop icon Pink demonstrated the power of empathy and unity when she modified the lyrics of her hit song "Sweet Child o' Mine" to show support for fellow pop sensation Britney Spears, who is currently navigating the challenges of a divorce from her husband Sam Asghari. This heartfelt gesture not only showcases the deep bond between artists but also highlights the strength of sisterhood in the music world.
Britney Spears: A Resilient Journey
Britney Spears, one of the most celebrated and scrutinized pop stars of her generation, has faced her share of personal and professional struggles in the public eye. The artist's legal battles surrounding her conservatorship have made headlines globally, sparking conversations about mental health, autonomy, and the perils of fame. Amidst these challenges, Britney's music has remained a constant source of solace for her fans, and her resilience has inspired countless individuals to stand up for justice and compassion.
Pink: A Voice of Empathy
Pink, known for her dynamic vocals and empowering anthems, has always championed authenticity, individuality, and solidarity. Her music often reflects the human experience, touching on themes of love, strength, and perseverance. Her decision to modify the lyrics of "Sweet Child o' Mine" to show support for Britney Spears is a testament to her empathetic nature and her understanding of the struggles faced by fellow artists.
The Heartfelt Tribute
Pink's gesture of solidarity occurred during a live performance of "Sweet Child o' Mine." She transformed the song's lyrics to express her support for Britney Spears during this challenging time. The modified lyrics poignantly conveyed Pink's empathy and the understanding that artists, despite their fame, also experience personal trials and tribulations. This powerful tribute serves as a reminder that the bond between artists extends beyond the stage and studio—it's a bond of shared experiences, struggles, and triumphs.
Empowerment Through Unity
Pink's act of modifying her song's lyrics serves as an inspiration for artists and fans alike. It illustrates the importance of standing together during difficult times, of using one's platform to amplify the voices of those who need support, and of fostering a community that values empathy and compassion. In an industry often fraught with competition, Pink's gesture showcases the power of unity and the potential for artists to uplift and empower one another.
Group Media Publications
Entertainment News Platforms – anyflix.in
Construction Infrastructure and Mining News Platform – https://cimreviews.com/
General News Platform – https://ihtlive.com/
Podcast Platforms – https://anyfm.in