Finally explaining his decision to delete his Instagram posts, Adnan Sami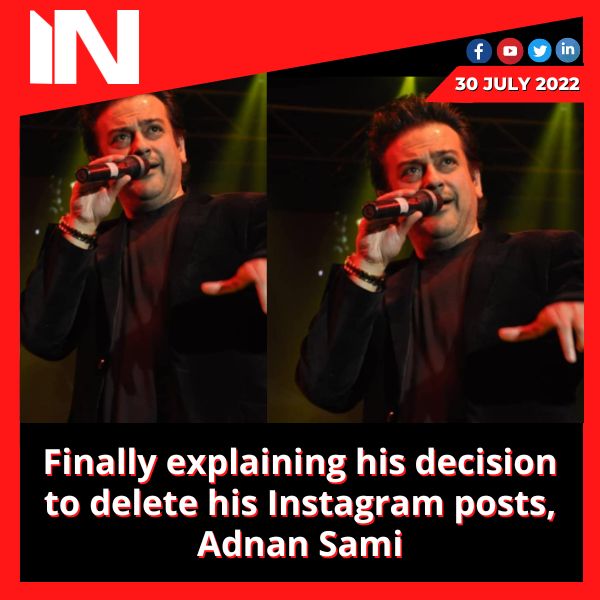 Adnan Sami has finally explained why he recently deleted all of the posts from his Instagram account, shocking his followers. Adnan shared a video after leaving his profile blank and using the username "Alvida" (Goodbye). A new song called Alvida and its music video were released a short while later.
When asked why he deleted his Instagram posts, which worried many of his fans, Adnan said that the inspiration came from his most recent physical change. The musician explained that while the concept might have been clever or stupid, his intention was to show how much he had changed. He also expressed shock at how the public reacted to his action.
Call it clever or stupid, but Adnan told ETimes that the inspiration for deleting all of his social media posts came from his recent physical change. The pandemic made us all reevaluate our priorities… I made the decision to pick up music again. This decision to change resulted from both my physical and mental transformations. I wanted to concentrate on making music that was melodic. For this reason, I also changed my Instagram name to Adnan 2.0. I decided to archive all of my posts on social media because this process of change had inspired me to think it would be a good idea to declutter there.
Adnan also clarified that, contrary to appearances, he has simply archived his posts rather than deleting them all. Adnan remarked, "For heaven's sake, if I intended to jump off the ledge and commit suicide, I would've just written the word 'alvida' in a caption," in response to the alarmed reactions from his fans. I wouldn't have had a stylized logo made with the word alvida's letters fading in on the screen. I wouldn't take the time to make the announcement aesthetically pleasing and cinematic if I had to commit suicide.
All the messages that the fans left for him to cheer him up after the incident, however, provided reassurance for Adnan. On Thursday, July 28, he made Alvida, a brand-new song, available. He was also present in the music video of the song.
Group Media Publications
Entertainment News Platforms – anyflix.in
Construction Infrastructure and Mining News Platform – https://cimreviews.com/
General News Platform – https://ihtlive.com/
Legal and Laws News Platforms – https://legalmatters.in/
Podcast Platforms – https://anyfm.in/
Singer Papon was recently admitted to a hospital in Mumbai, where he claims his kid served as his "night attendant."
Title: Papon's Heartfelt Gesture: His Kid as a Night Attendant during Hospitalization
Introduction: Renowned singer Papon, known for his melodious voice and soulful performances, recently made headlines when he was admitted to a hospital in Mumbai. However, what caught the attention of many was his heartfelt revelation that his own child served as his "night attendant" during his stay. In this blog post, we explore the touching story behind Papon's admission and the significance of his child's involvement in his recovery process.
Papon's Hospitalization: The news of Papon's hospitalization took the music industry and his fans by surprise. The singer, facing health challenges, required medical attention and care. His decision to seek treatment underscores the importance of prioritizing one's well-being, even for those in the public eye.
A Special Role for His Child: During his stay at the hospital, Papon revealed that his own child took on the role of his "night attendant." This heartfelt gesture showcases the bond between a parent and a child, where love and support transcend societal norms and roles. It highlights the extraordinary nature of this relationship and the willingness of family members to go above and beyond to provide care and comfort.
Emotional Support in Healing: Having a loved one, especially a child, by one's side during challenging times can offer significant emotional support. The presence of a caring family member can uplift spirits, reduce anxiety, and contribute to a positive healing environment. Papon's experience demonstrates the therapeutic value of familial connections and the importance of a strong support system during periods of vulnerability.
Redefining Traditional Roles: Papon's acknowledgment of his child's involvement challenges traditional gender roles and societal expectations. In a world where caregiving responsibilities are often assigned based on gender, his story stands as a powerful testament to the fluidity of these roles and the recognition of each individual's unique abilities to provide care and support.
The Power of Family: Papon's experience resonates with many individuals who understand the crucial role family plays in times of distress. The unconditional love and support of family members can significantly impact the healing process and contribute to a faster recovery. It serves as a reminder to cherish and nurture these bonds, appreciating the immense value they bring to our lives.
Conclusion: Papon's recent hospitalization brought forth a heartwarming story of his child serving as his "night attendant" during his stay. This tale of familial love and support emphasizes the powerful role family plays in times of adversity. It challenges traditional gender roles and exemplifies the unique bond between a parent and a child. Papon's experience serves as an inspiration for individuals to appreciate the significance of family and the profound impact their support can have on one's healing journey.
Group Media Publications
Entertainment News Platforms – anyflix.in
Construction Infrastructure and Mining News Platform – https://cimreviews.com/
General News Platform – https://ihtlive.com/
Podcast Platforms – https://anyfm.in