Sona Mohapatra criticises Farhan Akhtar for not denouncing Sajid Khan's presence in Bigg Boss 16: 'You know this man and the others personally.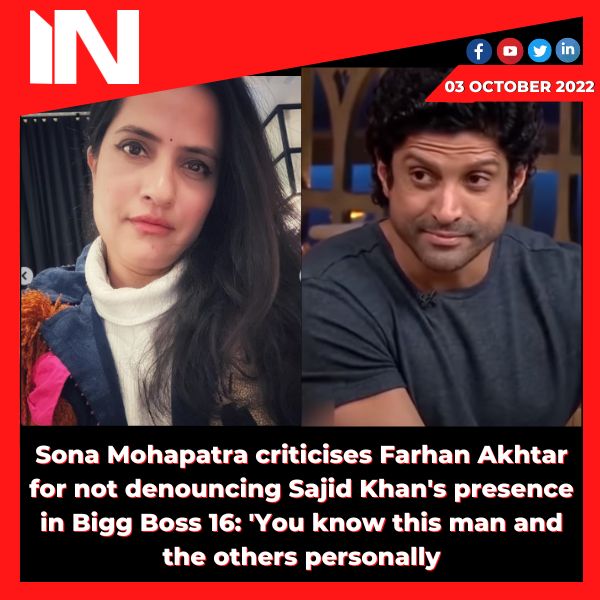 Many people are incensed by filmmaker Sajid Khan's participation on Bigg Boss 16. Salman Khan welcomed Sajid, who has been accused of sexual misconduct by numerous women during the #MeToo movement, into the Bigg Boss House. Sona Mohapatra, a singer who is known for speaking out on contentious subjects in the business, issued a strong statement denouncing the participation. Farhan Akhtar, the leader of the organisation Mard, was singled out by her and questioned about his silence.
"This is #SajidKhan, now on a reality TV show," Sona added. Then there is #AnuMalik, who is a judge on a children's music reality TV series. Kailash Kher TV celebrity judge. MANY, MANY women in the #IndiaMeToo movement called them out. The executives of Indian TV stations are a sad and twisted bunch.
She sent Farhan Akhtar a message saying, "Dear @FarOutAkhtar, you front an organisation named MARD. You personally know this individual and a great number of the others. Only speak up or stand up when it's advantageous or profitable to virtue signal for "our cause," not right now. Giving starts at home.
The free publicity would make Sona's marketing and creative teams "chuckle ghoulishly," she continued. Sleep comfortably at night dancing on your conscience' graves, she said.
Upon entering Bigg Boss, Sajid Khan avoided discussing the #MeToo allegations and instead claimed that "his hubris" was to blame for his demise. He told Salman Khan in-depth details about how his credit for Housefull 4 had been "stolen." I worked on the movie up until the night (when he was charged with harassment), and then I stopped working on it the next morning. It was taken away from me that I had credit in the movie. Nevertheless, Salman Khan gave him a warm welcome and vowed not to favour him despite their closeness.
Shehnaaz Gill also gave Sajid a lot of support, which infuriated her followers. Shehnaaz had given Sajid a video message stating, "Hi Sajid bhai, I am extremely delighted for you. You are going inside the Bigg Boss house. Just go all out on the reality show the same way you always made the audience laugh on television and with your writing. Just be friendly to everyone and refrain from engaging in conflict. Just have fun and be yourself. Rock it, bro. You have my backing. Sajid Khan has also received the support of Kashmera Shah.
Meanwhile, many people posted the allegations against Sajid made by numerous women on social media and called out everyone worried about his participation in the reality show. Since the start of the programme, Sajid Khan has become popular.
Group Media Publications
Entertainment News Platforms – anyflix.in      
Construction Infrastructure and Mining News Platform – https://cimreviews.com/
General News Platform – https://ihtlive.com/
Legal and Laws News Platforms – https://legalmatters.in/
Podcast Platforms – https://anyfm.in/
Jr NTR fans burn firecrackers during Simhadri re-release.
Jr NTR, the popular Telugu film actor, has an ardent fan following known for their unwavering support and enthusiasm. However, a recent incident during the re-release of Jr NTR's blockbuster film Simhadri has caused controversy. Fans celebrated the occasion by igniting firecrackers, leading to a heated debate about public safety, environmental concerns, and responsible fandom. In this blog post, we will explore the incident, its implications, and the need for balanced fan celebrations.
The Re-Release of Simhadri: Simhadri, a 2003 Telugu action-drama film, remains one of Jr NTR's most beloved movies. To commemorate its anniversary, the producers decided to re-release the film, allowing fans to relish the nostalgia and experience the magic on the big screen once again. The announcement generated excitement and anticipation among Jr NTR's loyal fan base.
Fan Celebration Gone Awry: In their eagerness to celebrate the re-release of Simhadri, a section of Jr NTR's fans resorted to lighting firecrackers outside theaters. The loud explosions and billowing smoke alarmed moviegoers and nearby residents, leading to complaints and safety concerns. The incident drew criticism from various quarters, sparking a debate about responsible fandom and the need for considering public safety and environmental consequences.
The Importance of Responsible Fandom: Fans play a significant role in an actor's success, and their enthusiasm can bring immense joy to the celebrity they adore. However, it is essential for fans to remember that their actions should be responsible and respectful towards others. Expressing support and admiration should not come at the cost of causing inconvenience, harm, or damage to the surroundings.
Public Safety and Environmental Concerns: The incident of firecrackers being ignited during the Simhadri re-release raises important concerns regarding public safety and environmental impact. Firecrackers, besides being noisy, can also be hazardous and pose a risk to people's well-being, especially in crowded areas. Additionally, the environmental implications of such celebrations, including air and noise pollution, cannot be ignored.
Promoting Positive Fan Culture: While celebrating the achievements and milestones of their favorite stars, fans have the power to shape public perception. It is crucial for fan clubs and individuals to encourage positive fan culture, emphasizing activities that are inclusive, respectful, and beneficial for society. Non-disruptive celebrations such as charity events, social initiatives, and fan gatherings can foster a sense of unity and promote a positive image of fandom.
Fans can channel their enthusiasm in more responsible ways, such as organizing special screenings, conducting charity drives, or engaging in community service projects. By focusing on these avenues, fans can create a positive impact while celebrating their favorite stars without causing harm, inconvenience, or violating safety protocols.
The incident of Jr NTR fans igniting firecrackers during the re-release of Simhadri raises important questions about responsible fandom, public safety, and environmental concerns. While fans' enthusiasm is commendable, it is crucial for them to celebrate in a manner that respects the well-being of others and the environment. By promoting a culture of responsible fandom, fans can ensure that their admiration for their favorite stars does not overshadow the importance of public safety and environmental sustainability.
The director's passing this morning came as a shock to Rani Mukerji, who worked with him on Laaga Chunari Mein Daag and Mardaani. They had been planning to meet up shortly. Sarkar, who is best known for helming the 2005 drama Parineeta, passed away at Lilavati hospital in Mumbai's Bandra area, according to his wife Panchali. He was 67.
ADVERTISEMENT
about:blank
Group Media Publications
Entertainment News Platforms – anyflix.in
Construction Infrastructure and Mining News Platform – https://cimreviews.com/
General News Platform – https://ihtlive.com/
Podcast Platforms – https://anyfm.in