Story Of A Transgender – Maaya |Ye Zindagi Live| India Hot Topics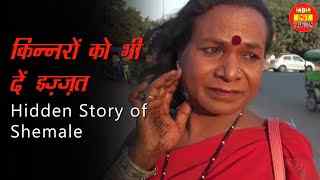 Story Of A Transgender – My name is Maya, belong from Asam. My parents had thrown me in a trash box when I born. I have lived a painful life.
It's hard to get food, people treat us bad though sometimes good. Some say we won't give you money still I bless them wholehearted.
I am not a female nor male. For daily living, if I go to work in houses, people taunt us saying no one is willing us to work in their home and get rid of by giving 100 rupees.
Some people tender me 500 rupees, 2000, 100, or 10 rupees and few don't tender a single penny. Some people abuse me or slap me nevertheless I bless them.
Wednesday is a lucky day for me, I get money sometimes blanket, sometimes rice, sometimes wheat flour and sometimes cocking oil. All the same, I bless them.
One day, a car hit me and broke my leg. I don't have control over what I can do. I start my work in the early morning from 6am to 10 am then again from 2pm to 7 pm. I have to look after Guru's fees, my living, and my rent along with son's education expanse.
My son is studying Bachelor of Art, I want to make him a doctor. God listen to my prayer and given a grandson to a family. In return, they given me 2000 rupees, Blanket, Sari, ration, cocking oil, turmeric means everything for a month.
I bless everyone whether he will tender me tomorrow or day after. I only pray for well being for everyone.
Jungkook's song Seven has become the fastest to surpass 900 million streams on Spotify.
Jungkook's "Seven": A Record-Breaking Phenomenon on Spotify
In the world of music streaming, there are certain milestones that artists dream of achieving, and breaking records is often one of them. Recently, Jungkook, a member of the globally renowned K-pop group BTS, achieved a remarkable feat when his solo track, "Seven," became the fastest song to surpass 900 million streams on Spotify.
BTS, known for their chart-topping hits and dedicated fanbase, has been at the forefront of the K-pop revolution, captivating audiences worldwide. While the group's collective success is widely recognized, Jungkook's individual accomplishments have been equally awe-inspiring. His solo track "Seven" is a testament to his talent and the unwavering support of the ARMY, BTS's dedicated fanbase.
"Seven," a soulful and heartfelt song, showcases Jungkook's versatility as an artist. The track's captivating melody and poignant lyrics have resonated with fans on a profound level, making it a favorite in his discography. Its soaring popularity and streaming records are a reflection of the emotional connection that Jungkook shares with his listeners.
Spotify, one of the world's leading music streaming platforms, has become a barometer for an artist's global reach and impact. The fact that "Seven" achieved this milestone on the platform in record time speaks volumes about Jungkook's popularity and the loyalty of the ARMY.
It's important to acknowledge the influence and significance of this accomplishment. Surpassing 900 million streams is not just about the number; it's a testament to the emotional resonance that "Seven" has with listeners around the world. It's a song that has offered solace and inspiration to fans during challenging times, underlining the profound impact of music.
Jungkook's rise as a solo artist within the BTS universe is a testament to the group's commitment to individual growth and artistic exploration. "Seven" serves as a shining example of how each member of the group has something unique to offer, and Jungkook's success reaffirms the power of their collective and individual talents.
The ARMY, known for their unwavering support, played a crucial role in this achievement. Their dedication and passion for BTS and its members have consistently propelled the group and its individual members to new heights. This milestone stands as a testament to their love and commitment.
As "Seven" continues to make waves on Spotify and Jungkook's star continues to rise, it's clear that K-pop and BTS have transcended borders, languages, and cultures. They have redefined the global music landscape, and this record-breaking achievement only further solidifies their status as trailblazers in the industry.
In the world of music streaming, Jungkook's "Seven" has made history, and in the hearts of fans, it has created lasting memories. It's a reminder of the power of music to unite, inspire, and break records, and it paves the way for a future where K-pop continues to shine on the global stage. Congratulations to Jungkook and the ARMY for this remarkable achievement!
Group Media Publications
Entertainment News Platforms – anyflix.in      
Construction Infrastructure and Mining News Platform – https://cimreviews.com/
General News Platform – https://ihtlive.com/
Podcast Platforms – https://anyfm.in