When Chunky Panday was returned to his "pichla janam" by Ravi Kishan on a reality show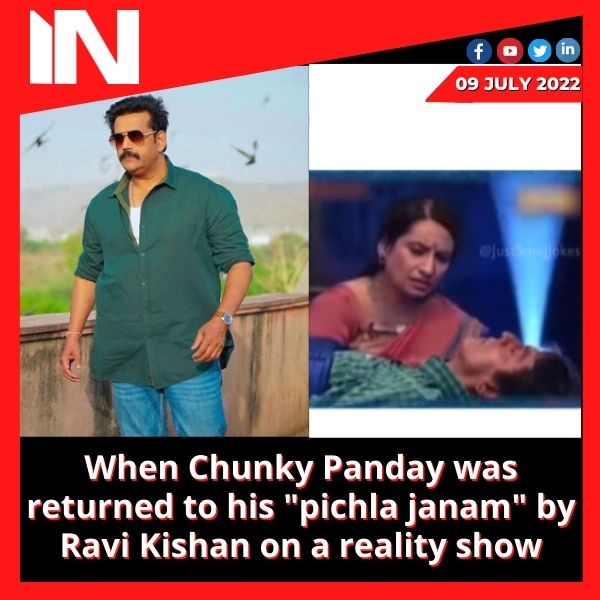 Chunky Panday discussed his prior life on national television in 2010. On the reality programme Raaz Pichhle Janam Ka, hosted by Ravi Kishan, the actor made an appearance. In order to see a glimpse of his prior life, Chunky underwent past life regression therapy on the show. The actor claimed he could see his "previous life" and that he was slain on a ship in colonial India during the session.
The reality programme Raaz Pichhle Janam Ka, which aired on NDTV Imagine for two seasons from 2009 to 2011, claimed to be based on the theories of reincarnation and past-life regression. During their appearances, celebrities received previous life regression therapy from psychologist Trupti Jayin.
A meme page on Instagram recently posted a clip from Chunky's participation on the show online. The website used the film as an illustration of how "fake" Indian reality shows are. In the clip, Ravi discusses the show's premise and explains how it helps viewers confront their concerns by confronting traumas from previous lifetimes. Chunky claimed to have had visions of his "previous life" in British-ruled colonial India, where he was in charge of delivering gold to Goa. He claimed to have seen a British girl as well, whose name he "remembered" to be Rebecca. Chunky said that he perished during an attack on his ship. Many people recalled seeing the programme as kids in the comments section, while others said how absurd the premise was.
The medical establishment has criticised and ridiculed past-life regression, calling it "unscientific." Many detractors also expressed scepticism over the procedures depicted in Raaz Pichhle Janam Ka since they were distinct from a typical past life regression session. The Punjab and Haryana High Court issued a statutory notice to the programme in 2010 after an NGO by the name of Bharat Jan Vigyan Jathan convinced it to do so for allegedly encouraging superstition.
The first season of the programme debuted in December 2009, and Payal Rohatgi, Shekhar Suman, Manavendra Singh Gohil, Celina Jaitley, and Monica Bedi were among the famous visitors. In one of the programmes, host Ravi Kishan took part in a session as a guest. Chunky served as the first visitor to the second season, which debuted in October 2010.
The 19 episodes that followed included, among others, Mahima Chaudhary and Shakti Kapoor. The programme ended in January 2011.
Group Media Publications
Entertainment News Platforms – anyflix.in
Construction Infrastructure and Mining News Platform – https://cimreviews.com/
General News Platform – https://ihtlive.com/
Legal and Laws News Platforms – https://legalmatters.in/
Podcast Platforms – https://anyfm.in/
Disha Parmar and Nakuul Mehta discuss working together again for Bade Achhe Lagte Hain 3 and other topics.
Title: Reunion of Talent: Disha Parmar and Nakuul Mehta Discuss Working Together Again for "Bade Achhe Lagte Hain 3" and More
Introduction: The television industry has been abuzz with excitement as Disha Parmar and Nakuul Mehta, two immensely talented actors, reunite for the highly anticipated show "Bade Achhe Lagte Hain 3." Their on-screen chemistry and exceptional performances in the past have won the hearts of audiences, making their collaboration once again a cause for celebration. Recently, Disha and Nakuul shared their thoughts on working together again, their experiences, and their future aspirations.
A Trip Down Memory Lane: "Bade Achhe Lagte Hain," the original series that captivated viewers, left an indelible mark on the hearts of millions. Disha Parmar and Nakuul Mehta played pivotal roles in the show's success with their nuanced performances as Priya and Ram, respectively. Their effortless chemistry and ability to bring their characters to life made the show an unforgettable experience for fans. Now, with the announcement of the show's third installment, viewers are eagerly awaiting their on-screen reunion.
A Reunion of Talent and Camaraderie: In a recent interview, Disha Parmar and Nakuul Mehta expressed their excitement and joy at the prospect of working together once again. They shared stories of their past experiences on the set of "Bade Achhe Lagte Hain" and how the show holds a special place in their hearts. The duo praised each other's professionalism and the strong bond they formed during their previous collaboration, making their reunion all the more special.
Exploring New Dimensions: While the return to "Bade Achhe Lagte Hain" is undoubtedly a much-anticipated event, Disha and Nakuul also discussed their aspirations to explore different genres and characters beyond their previous roles. They expressed their desire to push boundaries and challenge themselves as actors, eager to embark on new projects that offer diverse and exciting opportunities for growth.
Fans' Anticipation: The announcement of Disha Parmar and Nakuul Mehta's reunion has sparked a wave of anticipation among fans. Social media platforms are buzzing with excitement as viewers eagerly await the return of their favorite on-screen pair. The fans' unwavering support and love have been a driving force for Disha and Nakuul, inspiring them to give their best performances and create magic on screen once again.
A Promising Future: As Disha Parmar and Nakuul Mehta prepare to step into their respective characters for "Bade Achhe Lagte Hain 3," the duo is poised to deliver yet another memorable performance. Their talent, combined with the creative vision of the show's makers, promises an engaging and entertaining experience for viewers. The audience can look forward to witnessing the evolution of these exceptional actors as they breathe life into new narratives and explore the depths of their characters.
Conclusion: The reunion of Disha Parmar and Nakuul Mehta for "Bade Achhe Lagte Hain 3" is a moment of excitement and nostalgia for both the actors and their fans. Their on-screen chemistry and remarkable performances have left an indelible impression in the minds and hearts of viewers. As they embark on this new journey together, audiences eagerly await their captivating performances and the magic they will create once again. With their shared talent and passion for their craft, Disha and Nakuul are poised to deliver yet another exceptional television experience that will be etched in the annals of television history.
Group Media Publications
Entertainment News Platforms – anyflix.in
Construction Infrastructure and Mining News Platform – https://cimreviews.com/
General News Platform – https://ihtlive.com/
Podcast Platforms – https://anyfm.in