Which are the most important foods to boost your fertility?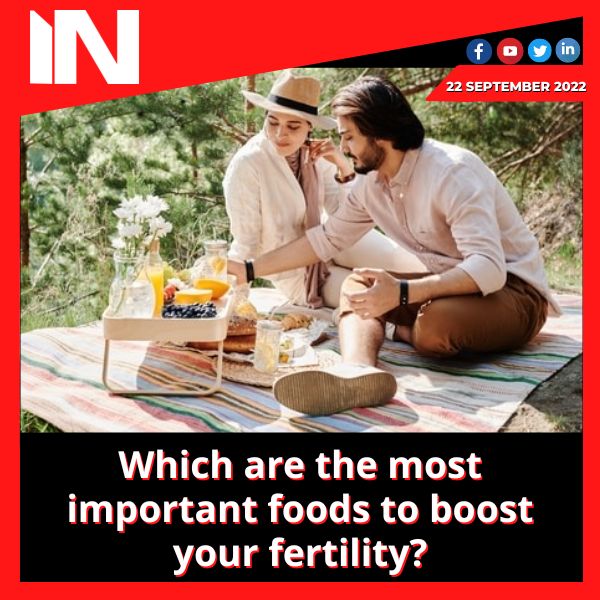 If you probably did everything in your power to conceive and might want to try again, having a healthy lifestyle and sex life is the first and primary thing you should do if you want to get pregnant quickly. A nutritious diet is crucial, ranking just behind getting enough sleep since eating a healthy diet that includes foods known to increase fertility can hasten pregnancy.
Dr. Nishi Singh, MBBS, DGO, MS (Obstetrics and gynaecology) from Prime IVF said that one's diet can have a substantial impact on fertility and reproductive health in an interview with HT Lifestyle. Many studies have shown, in the words of Dr. Nishi Singh, "that following fertility procedures like IVF, a fertility or pro-fertility diet can lead to a shorter time to pregnancy, a decreased probability of ovulatory infertility, and greater live birth rates."
When we think of strategies to increase our fertility, receiving therapy—which often comprises a battery of thorough diagnoses and interventions—is the first thing that comes to mind. However, the food and drink choices you make may have an impact on your ability to conceive.
A fertility diet includes whole foods, organic vegetables, fruit, whole grains, fish, chicken, more omega-3 fatty acids, and less trans fats, according to LivLong CEO Gaurav Dubey, who also advises staying away from fast food, alcohol, and caffeine.
We are aware of no nutritional means of treating infertility. However, you shouldn't quit eating so-called fertility foods because they include nutrients that improve sperm quality in males and regulate ovulation in women. As a result, our diet has significant effects. Now let's look at the top five foods that increase fertility.
1. Salmon
Salmon is frequently referred to as a "superfood" because of its numerous beneficial health effects. Salmon is a fantastic diet for increasing fertility in both sexes due to its high omega-3 fatty acid concentration. Stronger sperm may also result from the abundance of vitamin D and selenium in the meal.
2. Eggs
Eggs are loaded in vitamin B, which helps with conception. Due to their high protein content, they greatly benefit one's health and fitness. Choline, which is present in eggs along with its other nutrients, contributes to a healthy pregnancy.
3. Walnuts
Walnuts' superior fats are good for your reproductive system. Due to their high omega-3 content, walnuts may enhance fertility. Immediately munch on them as a snack.
4. Seeds from sunflowers
It has been demonstrated that the vitamin E found in large quantities in sunflower seeds helps men produce more sperm. DNA fragmentation, motility, and sperm count are all improved. Sunflower seeds are also an excellent source of zinc, selenium, folate, and omega-3 fatty acids.
5. Beans and peas
Both are high in protein, and studies show that women with more regular ovulation cycles also consume more plant-based proteins. Some research suggests that eating lentils can increase fertility by promoting fertilisation.
If you make wise decisions and changes while you are on your fertility journey, your stress levels can be reduced and some control can be given during a time when the circumstances might frequently feel as though they are out of your control. We still believe it's crucial for women who are trying to get pregnant to establish a healthy balance in their diets, even though some foods are believed to be an all-natural method of enhancing fertility.
When you are on this voyage, punishing yourself for the occasional pleasure of indulging in something like a bowl of ice cream or a slice of pizza is not healthy for your mind or body.
Group Media Publications
Entertainment News Platforms – anyflix.in
Construction Infrastructure and Mining News Platform – https://cimreviews.com/
General News Platform – https://ihtlive.com/
Legal and Laws News Platforms – https://legalmatters.in/
Podcast Platforms – https://anyfm.in/
Jr NTR fans burn firecrackers during Simhadri re-release.
Jr NTR, the popular Telugu film actor, has an ardent fan following known for their unwavering support and enthusiasm. However, a recent incident during the re-release of Jr NTR's blockbuster film Simhadri has caused controversy. Fans celebrated the occasion by igniting firecrackers, leading to a heated debate about public safety, environmental concerns, and responsible fandom. In this blog post, we will explore the incident, its implications, and the need for balanced fan celebrations.
The Re-Release of Simhadri: Simhadri, a 2003 Telugu action-drama film, remains one of Jr NTR's most beloved movies. To commemorate its anniversary, the producers decided to re-release the film, allowing fans to relish the nostalgia and experience the magic on the big screen once again. The announcement generated excitement and anticipation among Jr NTR's loyal fan base.
Fan Celebration Gone Awry: In their eagerness to celebrate the re-release of Simhadri, a section of Jr NTR's fans resorted to lighting firecrackers outside theaters. The loud explosions and billowing smoke alarmed moviegoers and nearby residents, leading to complaints and safety concerns. The incident drew criticism from various quarters, sparking a debate about responsible fandom and the need for considering public safety and environmental consequences.
The Importance of Responsible Fandom: Fans play a significant role in an actor's success, and their enthusiasm can bring immense joy to the celebrity they adore. However, it is essential for fans to remember that their actions should be responsible and respectful towards others. Expressing support and admiration should not come at the cost of causing inconvenience, harm, or damage to the surroundings.
Public Safety and Environmental Concerns: The incident of firecrackers being ignited during the Simhadri re-release raises important concerns regarding public safety and environmental impact. Firecrackers, besides being noisy, can also be hazardous and pose a risk to people's well-being, especially in crowded areas. Additionally, the environmental implications of such celebrations, including air and noise pollution, cannot be ignored.
Promoting Positive Fan Culture: While celebrating the achievements and milestones of their favorite stars, fans have the power to shape public perception. It is crucial for fan clubs and individuals to encourage positive fan culture, emphasizing activities that are inclusive, respectful, and beneficial for society. Non-disruptive celebrations such as charity events, social initiatives, and fan gatherings can foster a sense of unity and promote a positive image of fandom.
Fans can channel their enthusiasm in more responsible ways, such as organizing special screenings, conducting charity drives, or engaging in community service projects. By focusing on these avenues, fans can create a positive impact while celebrating their favorite stars without causing harm, inconvenience, or violating safety protocols.
The incident of Jr NTR fans igniting firecrackers during the re-release of Simhadri raises important questions about responsible fandom, public safety, and environmental concerns. While fans' enthusiasm is commendable, it is crucial for them to celebrate in a manner that respects the well-being of others and the environment. By promoting a culture of responsible fandom, fans can ensure that their admiration for their favorite stars does not overshadow the importance of public safety and environmental sustainability.
The director's passing this morning came as a shock to Rani Mukerji, who worked with him on Laaga Chunari Mein Daag and Mardaani. They had been planning to meet up shortly. Sarkar, who is best known for helming the 2005 drama Parineeta, passed away at Lilavati hospital in Mumbai's Bandra area, according to his wife Panchali. He was 67.
ADVERTISEMENT
about:blank
Group Media Publications
Entertainment News Platforms – anyflix.in
Construction Infrastructure and Mining News Platform – https://cimreviews.com/
General News Platform – https://ihtlive.com/
Podcast Platforms – https://anyfm.in