Yo Yo Honey Singh: I once tried acting, but I was awful at it and it's the hardest job there is.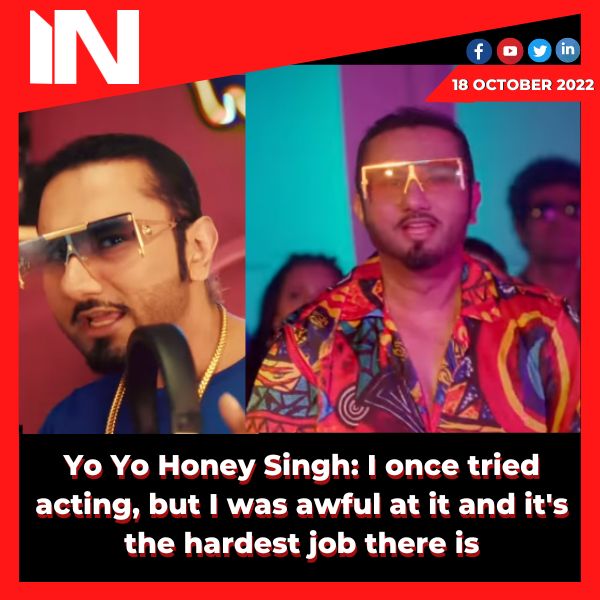 Yo Yo Honey Singh objects to the labels of musician, writer, rapper, or singer. "I am an entertainer and a performer. After recently performing in Delhi at the HT City Unwind food and music event, Yo Yo says, "Mujhe bas audience ko khush karna hai chahe kaise bhi ho." Yo Yo is more open than ever about everything from who should play the lead role in his biopic to his fitness quest, working with up-and-coming artists, and his most recent song, Together Forever. In addition, he provides information about his upcoming third album, Honey 3.0, which he claims will leave his listeners forgetting about anything else.
Several quotes from the interview
How did Dilwalon ki Dilli perform for the HT City audience?
It was excellent. I just gave a performance in Delhi, and I always like doing performances in places like Delhi, Jaipur, Indore, Hyderabad, and Assam, among others. Yeh saari jagah bahut insane and wild is true. At these locations, people's energy levels differ. I have a unique affection for Delhi in particular because that is where I was born and raised. I had a great time playing, and it was truly incredible and baffling. I was supposed to perform for 90 minutes, but because of the unruly audience and several individuals who risked their lives by climbing the pillars and sitting on the poles, I could only stay on stage for 45.
The time you dedicated a song to Alfaaz was quite emotional. We are aware that he has been having a difficult time since being attacked and suffering injuries, and you have been updating us on his health on Instagram. Was it challenging to perform for the first time without him?
People mistakenly believe that I view Alfaaz as an artist, a sibling, and a friend, but I actually view him as a son. He's been with me for 14 years and has performed on stage with me for 11–12 of those years. The song Haye Mera Dil by Alfaaz would typically be played first or second during any of my live performances. So, I really missed him during this performance, but he's much healthier and no longer in danger today. I was convinced that Haye Mera Dil Alfaaz ke bina hi karte hain aaj because of how much I missed him.
No of the highs and lows in your personal or professional life, it is nothing short of a masala potboiler. Would you want to play the lead role in your own biopic if it were to be filmed, or would you prefer someone else to depict your life story?
No, I wouldn't want to act since the one time I tried, I was awful at it. Acting bakwas karta hoon main. acting karna mere bass hi nahi hai. It's a difficult job. Acting is the most challenging aspect of stage performances, followed by writing and singing. So if my biopic is created, an actor would be preferable. And if you ask me, a new actor, a new face, perhaps the boy next door, should be cast. However, I believe there is still time for a biopic to be made. Biopic banegi toh, abhi namak, mirchi thodi kam hai, abhi kuch karna hai, uske baad masala aur badhega.
A few years ago, everyone was astounded and impressed by your physical change. Is your exercise programme going as planned?
It's still going on. In essence, I spent five years at home recovering from my illness in 2014 and was unable to perform much work. I had begun writing songs, and when I began filming my songs for Saiyaan Ji, Makhna, and other projects, I was quite overweight. Fans didn't appreciate the idea of someone with a wonderful body being out of shape. But despite exercising, I was unable to drop weight due to my medication. I finally took it seriously and put a lot of things on hold so that I could concentrate only on my fitness.
Has the ongoing transformation over the years—from being a composer of music to a rapper to now being a writer and a singer—been challenging?
Never did I wish to sing. I had no writing skills. I began by making music; uske bad kaam aata gaya. Then I began to compose for other people, and singing followed. Thus, everything has happened gradually. I sang and rapped a little bit in Brown Rang as well. I therefore do not claim to be a musician, writer, rapper, or singer. I am a performer and an entertainer, and my primary focus is on the audience's ability to be entertained.
Tell us about Together Forever, your most recent single, and what new things you have in store for your fans this time.
First time a black model appears in an Indian music video, it's for a love song that we filmed in Hollywood, Los Angeles. Because Indians were primarily fascinated with having white skin, I've always emphasised brown girls in my videos, but since my first song, I've also included dusky girls. In India and many other nations, black people are not regarded as beautiful, despite the fact that black ladies are stunning. Therefore, I chose a black girl to star in Together Forever.
Since you performed it live for the first time at HT City Unwind, your most recent song, Paris Ka Trip, has received a lot of positive feedback. How did you find the thrills?
our
It is a bizarre song. The song was recorded in March, but for various reasons, the release date kept getting pushed back. Milind [Gaba, singer] had been considering working with me for a while. He introduced me to this song about two years ago, and I assured him that we would undoubtedly collaborate on it. Then we wrote it, produced it, and now it's available. Although it's short, the song is incredibly commercial. It was incredibly wonderful that half the crowds knew the lyrics to the song when I performed it live because it was only released four days prior.
What kind of sense of obligation comes with working with emerging artists nowadays that you need to instil in them in order to make them feel welcome and included in the project?
I don't believe I'm in a situation where I can launch someone just yet. Because I'd never claim that no one gave me a chance, the answer is that I do attempt to give young talent a chance. When I was in Punjab, many individuals provided me opportunities, including the singers Ashok Mastie paaji and the late Raj Brar paaji. Then I travelled to Delhi, where I released Brown Rang and finally rose to become an internationally recognised performer. My goal is to always support emerging talent and ensure that they never compete with one another but rather work in harmony. The main goal of collaboration is to benefit one another.
What should your followers expect from you going forward?
I can't wait for the release of my third album, Honey 3.0, in January of next year. It features some previously unheard pieces. When I was writing songs up until recently, some people would say, "Purane Honey Singh wali baat nahi hai." Therefore, the new version I'm releasing for my followers will make you forget everything I've previously shared, whether it be Desi Kalakaar or International Villager. My fans will get to hear a variety of new and old songs on Honey 3.0, and I'll be at a different level of fitness.
Group Media Publications
Entertainment News Platforms – anyflix.in
Construction Infrastructure and Mining News Platform – https://cimreviews.com/
General News Platform – https://ihtlive.com/
Legal and Laws News Platforms – https://legalmatters.in/
Podcast Platforms – https://anyfm.in/
Jr NTR fans burn firecrackers during Simhadri re-release.
Jr NTR, the popular Telugu film actor, has an ardent fan following known for their unwavering support and enthusiasm. However, a recent incident during the re-release of Jr NTR's blockbuster film Simhadri has caused controversy. Fans celebrated the occasion by igniting firecrackers, leading to a heated debate about public safety, environmental concerns, and responsible fandom. In this blog post, we will explore the incident, its implications, and the need for balanced fan celebrations.
The Re-Release of Simhadri: Simhadri, a 2003 Telugu action-drama film, remains one of Jr NTR's most beloved movies. To commemorate its anniversary, the producers decided to re-release the film, allowing fans to relish the nostalgia and experience the magic on the big screen once again. The announcement generated excitement and anticipation among Jr NTR's loyal fan base.
Fan Celebration Gone Awry: In their eagerness to celebrate the re-release of Simhadri, a section of Jr NTR's fans resorted to lighting firecrackers outside theaters. The loud explosions and billowing smoke alarmed moviegoers and nearby residents, leading to complaints and safety concerns. The incident drew criticism from various quarters, sparking a debate about responsible fandom and the need for considering public safety and environmental consequences.
The Importance of Responsible Fandom: Fans play a significant role in an actor's success, and their enthusiasm can bring immense joy to the celebrity they adore. However, it is essential for fans to remember that their actions should be responsible and respectful towards others. Expressing support and admiration should not come at the cost of causing inconvenience, harm, or damage to the surroundings.
Public Safety and Environmental Concerns: The incident of firecrackers being ignited during the Simhadri re-release raises important concerns regarding public safety and environmental impact. Firecrackers, besides being noisy, can also be hazardous and pose a risk to people's well-being, especially in crowded areas. Additionally, the environmental implications of such celebrations, including air and noise pollution, cannot be ignored.
Promoting Positive Fan Culture: While celebrating the achievements and milestones of their favorite stars, fans have the power to shape public perception. It is crucial for fan clubs and individuals to encourage positive fan culture, emphasizing activities that are inclusive, respectful, and beneficial for society. Non-disruptive celebrations such as charity events, social initiatives, and fan gatherings can foster a sense of unity and promote a positive image of fandom.
Fans can channel their enthusiasm in more responsible ways, such as organizing special screenings, conducting charity drives, or engaging in community service projects. By focusing on these avenues, fans can create a positive impact while celebrating their favorite stars without causing harm, inconvenience, or violating safety protocols.
The incident of Jr NTR fans igniting firecrackers during the re-release of Simhadri raises important questions about responsible fandom, public safety, and environmental concerns. While fans' enthusiasm is commendable, it is crucial for them to celebrate in a manner that respects the well-being of others and the environment. By promoting a culture of responsible fandom, fans can ensure that their admiration for their favorite stars does not overshadow the importance of public safety and environmental sustainability.
The director's passing this morning came as a shock to Rani Mukerji, who worked with him on Laaga Chunari Mein Daag and Mardaani. They had been planning to meet up shortly. Sarkar, who is best known for helming the 2005 drama Parineeta, passed away at Lilavati hospital in Mumbai's Bandra area, according to his wife Panchali. He was 67.
ADVERTISEMENT
about:blank
Group Media Publications
Entertainment News Platforms – anyflix.in
Construction Infrastructure and Mining News Platform – https://cimreviews.com/
General News Platform – https://ihtlive.com/
Podcast Platforms – https://anyfm.in