All Android 12 devices are now supported by Google's Switch to Android iOS app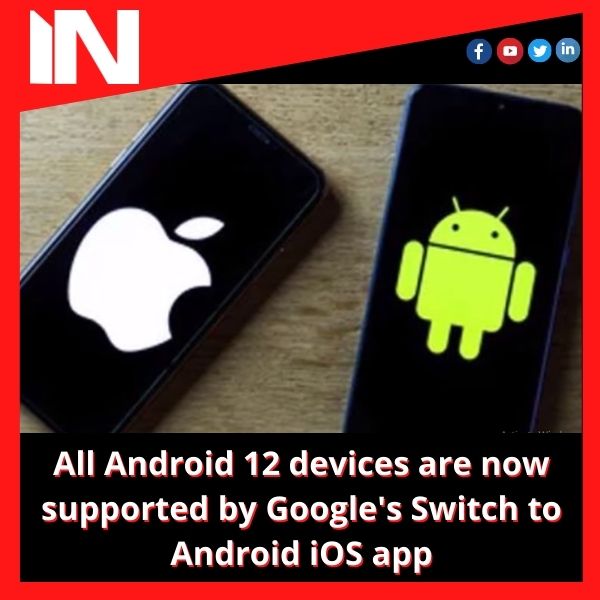 Google upgraded its Switch to Android iOS app because it appears to believe that more consumers are converting from iPhones to Android smartphones. It formerly only supported Pixels, but now it works with all Android 12 devices.
Even though, to put it mildly, Google may overestimate the number of users who convert from iOS to Android, it sure is helpful to have such a convenient switching option.
Your new Android 12 phone can be wirelessly or via a cord connected to your iPhone. Simply download the Switch to Android app to your iPhone and follow the simple setup instructions to get going.
You can transfer your contacts, photos, and videos (including those in iCloud, if you ask Apple for a copy of your data), SMS, MMS, and iMessage texts and media, WhatsApp message history and media, apps that are also available for Android and were offered for free on the App Store, custom wallpaper photos, call logs, alarms, device settings, and any DRM-free music you may have.
anyflix.in Group Media Publications
Construction Infrastructure and Mining News Platform – https://cimreviews.com/
General News Platform – https://ihtlive.com/
Legal and Laws News Platforms – https://legalmatters.in/
Podcast Platforms – https://anyfm.in/
Google I/O 2023 will introduce the Google Pixel 7a tomorrow. ways to view it live
Google I/O is an annual developer conference held by Google, where the company showcases its latest products, software updates, and innovations. The conference is a highly anticipated event for technology enthusiasts and fans of Google products. This year, Google I/O 2023 is expected to introduce the Google Pixel 7a, the latest addition to the Google Pixel smartphone lineup.
If you are excited to see the unveiling of the Google Pixel 7a and want to watch it live, there are several ways to do so. Here are some of the ways you can view the announcement:
Watch the Livestream on YouTube
Google I/O will be livestreamed on YouTube, so you can watch the entire event from the comfort of your own home. The livestream will be available on the Google Developers YouTube channel, and you can watch it on your computer, smartphone, or tablet.
Follow the Event on Twitter
Google I/O will also be covered on Twitter, so you can follow the official Google I/O Twitter account to get live updates and news about the event. You can also follow tech journalists and bloggers who will be attending the conference to get a more detailed view of the announcements.
Check Out Tech News Websites
Many tech news websites, such as The Verge, TechCrunch, and Engadget, will be covering the Google I/O event and the unveiling of the Google Pixel 7a. You can visit these websites to get the latest news and analysis about the product, as well as other announcements made during the event.
In conclusion, the Google I/O 2023 conference is an exciting event for tech enthusiasts, and the unveiling of the Google Pixel 7a is expected to be a highlight of the conference. By watching the livestream on YouTube, following the event on Twitter, or checking out tech news websites, you can stay up-to-date on the latest developments and announcements. Whatever method you choose, it's sure to be an exciting and informative event for anyone interested in technology and the Google Pixel lineup.
Group Media Publications
Entertainment News Platforms – anyflix.in      
Construction Infrastructure and Mining News Platform – https://cimreviews.com/
General News Platform – https://ihtlive.com/
Podcast Platforms – https://anyfm.in