Amazing advantages of a cold shower in the morning and why it is more effective than coffee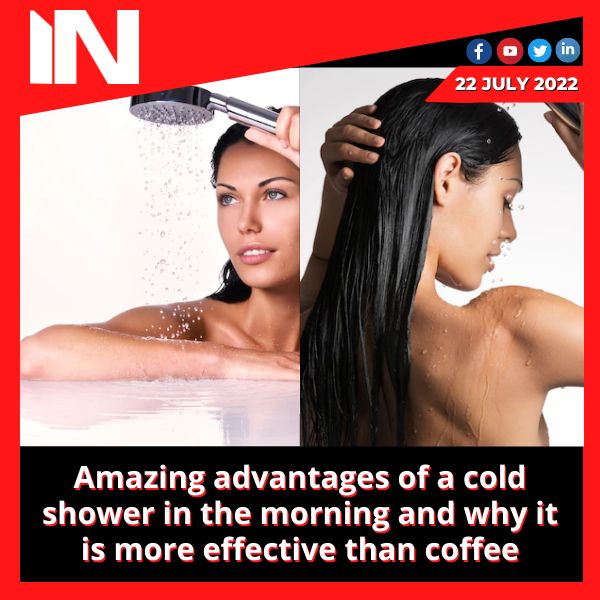 Do you turn to a hot cup of tea or coffee to combat morning drowsiness or a brief workout to boost your alertness? While this might alleviate your morning blahs, taking a cold shower might be another potent stimulant that could help you start your day off with energy in only a few minutes. Although many of us dislike the sensation of cold water on our bodies, especially first thing in the morning, experts claim it is the quickest way to feel awake and energised, speed up metabolism, and improve mental health.
"To wake up the brain and get the body ready for the day, a cold shower is preferable to a cup of coffee in the morning. They should play a significant role in the morning routines of the majority of people because they are a true game changer for health. It's a life hack that may dramatically enhance your game for nothing, "Tim Gray, a health optimising biohacker and psychologist, recently said on Instagram.
Even while many individuals, especially in the winter, would rather take a warm bath than a chilly shower, the discomfort of cold water may actually boost circulation, immunity, and mental toughness.
The brief discomfort, in Gray's opinion, is entirely justified by the subsequent feelings of exhilaration, alertness, and improved focus. He also enumerates some incredible advantages of taking cold showers.
Here are some benefits of taking a cold shower:
– Boost energy levels in the morning
– Quicker recovery after exercise
– Enhance blood flow and lessen inflammation
– Increase metabolism. enhance lymphatic cleaning
– Strengthen mental fortitude and mood
– Lessen persistent pain
– Increases brown fat content (having more brown fat is associated with lower body fat percentage)
– Stress levels are decreased
– Strengthen willpower
– Be more aware of your surroundings.
The ideal morning jolt
Skip the coffee and other morning tactics to feel alert and energised. You should use this easy tip if you have trouble waking up in the morning and are not a morning person.
"Taking a cold shower will help you wake up faster and more completely than taking 300 mg of caffeine, which takes about 5 minutes to work its magic. Simply switch your shower's temperature from hot to cold for ten seconds each day, then increase that time to one or two minutes. You should experience discomfort every time the temperature drops, followed soon by comfort. The objective is to reach a temperature where discomfort persists and doesn't go away.
"To relax your thoughts, practise controlling your breathing. Before you realise how cold the water is, you might be in it for up to five minutes "He says.

Group Media Publications
Entertainment News Platforms – anyflix.in
Construction Infrastructure and Mining News Platform – https://cimreviews.com/
General News Platform – https://ihtlive.com/
Legal and Laws News Platforms – https://legalmatters.in/
Podcast Platforms – https://anyfm.in/
Winter-related ear popping: causes, remedies, and strategies for prevention
If you live in a cold climate, you're probably no stranger to the sensation of your ears popping when you step outside. This is caused by the change in pressure between the warm air inside your body and the cold air outside. While this is usually a harmless phenomenon, it can be quite annoying. In this article, we'll explore the causes of winter-related ear popping, as well as some remedies and strategies for prevention.
One of the main causes of ear popping is a difference in air pressure. When you step outside into the cold air, the pressure outside is lower than the pressure inside your body. This difference in pressure can cause your ears to pop.
There are a few things you can do to ease the discomfort of ear popping. First, try yawning or swallowing. These activities can help equalize the pressure in your ears. You can also try chewing gum or sucking on candy. If you're flying, drink plenty of fluids and avoid chewing gum during takeoff and landing.
There are also some preventive measures you can take to avoid ear popping. If you know you'll be exposed to cold air, try to take a deep breath before you go outside. This will help equalize the pressure in your lungs and prevent your ears
Group Media Publications
Entertainment News Platforms – anyflix.in      
Construction Infrastructure and Mining News Platform – https://cimreviews.com/
General News Platform – https://ihtlive.com/
Legal and Laws News Platforms – https://legalmatters.in/
Podcast Platforms – https://anyfm.in