Sambhavna Seth discusses her battle with rheumatoid arthritis; she knows the causes and symptoms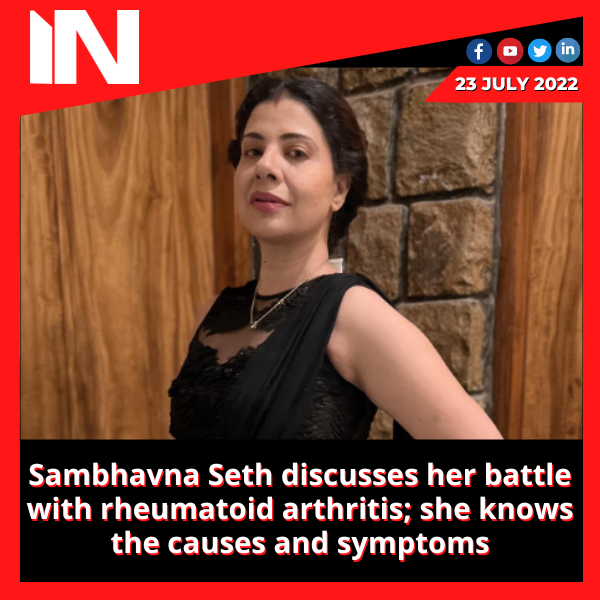 Sambhavna Seth, a TV actress and celebrity of the Bhojpuri language, has opened up about her battle with rheumatoid arthritis, an inflammatory condition that affects the hands, knees, wrists, and heels of sufferers. The Bigg Boss contestant broke down in tears as she described how crippling foot pain, particularly in the heels, prevents her from walking normally. The actress complained of severe pain and stiffness in her fingers and elbow. Sambhavna claimed that despite receiving a rheumatoid arthritis diagnosis many years prior, the condition eventually went away. However, the actress feels that the RA factor in her blood is active once more, which may be related to the IVF treatment she is receiving.
Rheumatoid arthritis definition
A chronic inflammatory autoimmune condition called rheumatoid arthritis occurs when your immune system unintentionally targets the tissues in your own body. RA sometimes affects multiple joints at once and frequently damages the hands, wrists, and knee joints.
"Your joints' lining is impacted by rheumatoid arthritis, which results in a painful swelling that may eventually lead to bone loss and joint deformity. RA can also harm various tissues throughout the body, resulting in concerns with the skin, lungs, heart, blood vessels, and eyes, among other organs "the Marengo QRG Hospital in Faridabad's Director of Orthopaedics and Joint Replacement, Dr. Sumit Batra.
What rheumatoid arthritis symptoms are there?
Patients with rheumatoid arthritis may experience symptoms of varying severity because there is no known cure for the condition. They could occasionally develop worse (known as flares) or better (known as remission).
RA symptoms and signs include:
– Joint pain or edoema in several places
– A stiffness in the joints that is typically worse in the morning and after inactivity
– Losing weight
– Tiredness or weariness, Weakness
Early illness typically begins in the hands' tiny joints and can later spread to other joints, such as the knee, ankles, elbow, and shoulder.
– About 40% of individuals additionally have symptoms of their eyes, lungs, skin, or heart.
Rheumatoid arthritis causes
The immune system of the body destroys its own healthy cells, which leads to rheumatoid arthritis.
Risk elements consist of:
– Genetics: RA is more prone to develop in those who were born with particular genes. HLA (human leukocyte antigen) class II genotypes are the name given to these genes.
– Sex: 3% of women and 1% of males are affected by it.
– Smoking and obesity can make RA more likely to occur.
– Women who have never given birth could be more susceptible to RA.
Diagnosis
Rheumatoid arthritis is diagnosed by going over the symptoms, performing a physical exam, ordering blood tests, and taking X-rays. Positive Rheumatoid factor and anti-CCP antibodies are examples of special blood tests.
Treatment
Rheumatoid arthritis has no known treatment. Medication or surgery can help the patient's symptoms and quality of life.
Medication: Nonsteroidal anti-inflammatory drugs (NSAIDs), steroids, and particular pharmaceuticals called as DMARDs can all be used to treat the disease (Disease modifying antirheumatic drugs). These medications can be suggested to help rheumatoid arthritis develop more slowly and protect the joints and other tissues from long-term harm. Methotrexate, leflunomide, hydroxychloroquine, sulfasalazine, and biologic medicines are examples of common DMARDs.
Surgery: In some cases, surgery can help with pain management and function enhancement. Synovectomy (removal of the joint lining), joint fusion, and total joint replacement are surgical alternatives.
pregnant women and rheumatoid arthritis
"Rheumatoid arthritis sufferers frequently report less severe symptoms while pregnant. Many people also mention that their symptoms get worse after giving birth, usually within the first three months. Rheumatoid arthritis patients have a decreased likelihood of becoming pregnant with assisted reproductive technologies, such as IVF "Dr. Sumit Batra explains.
Group Media Publications
Entertainment News Platforms – anyflix.in      
Construction Infrastructure and Mining News Platform – https://cimreviews.com/
General News Platform – https://ihtlive.com/
Legal and Laws News Platforms – https://legalmatters.in/
Podcast Platforms – https://anyfm.in/
Study: Maternal obesity more accurately predicts risk of heart disease than pregnancy issues.
Maternal health during pregnancy is a critical factor in the well-being of both the mother and the child. While a range of issues can arise during pregnancy, new research suggests that maternal obesity may be a more accurate predictor of heart disease risk than specific complications during pregnancy. This study sheds light on the long-term health implications of obesity and emphasizes the importance of addressing this public health concern. In this blog, we'll explore the findings of this study and their broader implications.
A Stronger Predictor of Heart Disease Risk than Pregnancy Complications
A recent study published in a medical journal has attracted attention for its focus on maternal obesity and its impact on future heart disease risk. Researchers conducted a retrospective analysis of medical records of women who had given birth in the past decade, tracking their health outcomes over time. The study found that maternal obesity is a more robust predictor of heart disease risk than specific pregnancy complications like gestational diabetes or pre-eclampsia.
Key Findings
Long-term Risk: The study's findings suggest that maternal obesity is associated with a significantly higher risk of heart disease in the years following pregnancy. This highlights the importance of addressing obesity as a long-term health concern, not just a temporary condition associated with pregnancy.
Preeclampsia and Gestational Diabetes: While preeclampsia and gestational diabetes are well-known complications of pregnancy that can impact maternal health, the study found that these conditions did not have as strong a correlation with future heart disease risk as maternal obesity.
Weight Management: The study underscores the importance of proactive weight management for women before, during, and after pregnancy. It highlights that addressing obesity may have a more significant impact on reducing heart disease risk than solely focusing on managing specific pregnancy-related complications.
Implications
Public Health Focus: Maternal obesity is a critical public health issue that extends beyond pregnancy. This research reinforces the need for society and healthcare systems to prioritize weight management and obesity prevention strategies to reduce the long-term health risks associated with obesity.
Holistic Approach: Healthcare providers should consider a holistic approach to maternal health that includes not only addressing pregnancy-related issues but also focusing on a woman's overall well-being, including weight management and cardiovascular health.
Education and Support: Women planning to become pregnant or already expecting should receive information, education, and support regarding the importance of maintaining a healthy weight before and after childbirth. Health professionals can play a vital role in providing guidance and resources.
The findings of this study highlight the critical role that maternal obesity plays in predicting future heart disease risk, even more so than specific pregnancy complications. This research serves as a call to action for healthcare providers, policymakers, and society as a whole to prioritize the prevention and management of obesity to safeguard the long-term health of women and reduce their risk of heart disease. Addressing this public health issue early can lead to healthier mothers, healthier pregnancies, and ultimately healthier families.
Group Media Publications
Entertainment News Platforms – anyflix.in      
Construction Infrastructure and Mining News Platform – https://cimreviews.com/
General News Platform – https://ihtlive.com/
Podcast Platforms – https://anyfm.in