Courteney Cox brings her A-game in this delectable horror comedy in Shining Vale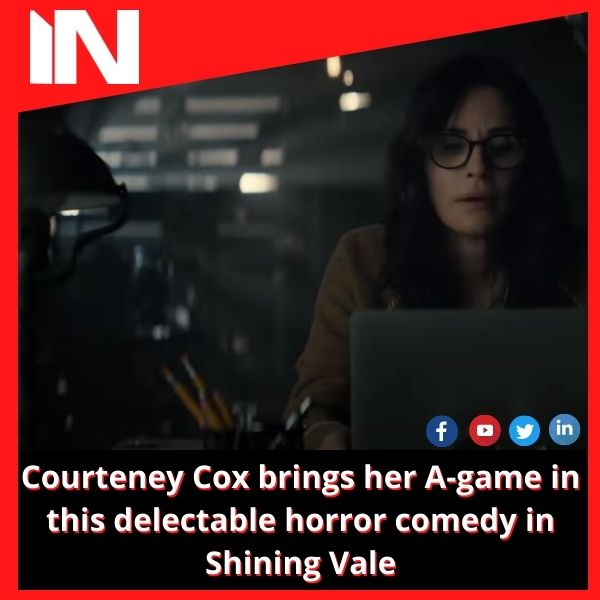 Shining Vale starts off with one of the most unique title cards/disclaimers I've seen in a long time. It discusses how women are twice as likely as men to be depressed, as well as the signs and symptoms of depression. It then goes on to say that women are twice as likely to be possessed as males are, and that the symptoms are very similar. It establishes the tone for the other eight half-hour episodes. Shining Vale attempts to blend comedy, satire, horror, and psychological thriller into the most unlikely of concoctions. It's been done before, but not with the same level of irreverence and wit. Shining Vale, despite its creative screenplay, could have been a conventional thriller show if it hadn't been for Courtteney Cox's sassy portrayal as the lead.
After being caught cheating on her husband, Patricia Phelps (Courteney), a writer known for filthy novels for women, is forced to relocate with her family to a small town for a fresh start. Patricia experiences writer's block as her husband Terry (Greg Kinnear) and her two teenage children adjust to life in their new rural hamlet. She believes she is either depressed or possessed, but she can't decide which. Both options are portrayed as indisputable fact, at least for the first several episodes, thus neither can the viewers.
The series keeps you on the edge of your seat. Is it a narrative about demonic possession or a haunting, or about a lady trapped in a mundane life cycle? Is it a satire on how women's mental health is constantly overlooked and pushed to the side? This strangely feminist show manages to bring attention to women's mental health difficulties, the midlife and existential crises they confront in their 50s, and the irritation a woman feels when she isn't taken seriously, all without being preachy. One of the show's best moments, in my opinion, is when Pat accuses her husband of mansplaining something to her, and he quickly responds by explaining what mansplaining 'really' is. Simple, understated, amusing, and effective.
Shining Vale's writing keeps it entertaining to watch throughout the eight episodes. Abortion, sexism, ageism, and corporate slavery are all joked about. Even one of them, if poorly worded, might leave a foul taste in the mouths of the audience, spoiling the show. But they all make it to the ground. That is all due to the writers, directors, and actors. The show, however, isn't a slapstick comedy. It isn't going to make you laugh out loud. It isn't a jump-scare type of horror, and you won't be hiding beneath your cover or pillow for too long. But it has just the proper amount of both of them. While the show keeps you guessing if it's a horror or a psychological thriller at first, the mystery gradually unravels.
The performances, led by Courteney Cox, are the icing on the cake. She plays a 51-year-old woman who is 'stuck' in her home and life, and she nails the claustrophobia well. Her interactions with her muse/demon/hallucination are when she feels most free, and Courteney and Mira Sorvino, who plays Pat's tormenter-in-chief Rosemary, have both brilliantly represented that illicit link. Greg Kinnear, who plays the caring yet unforgiving husband, is an excellent counterbalance for the two women. His performance exemplifies how a male character can be problematic and slightly sexist without being a 'bad guy.' He is just a regular man, who has been conditioned a certain way. Among the supporting cast, Gus Birney as Pat's teenage daughter Gaynor and Susan Park as the Phelps' god-fearing neighbour Valerie stand out.
Shining Vale premiered in the US on Starz in March. But it wasn't until June 10 that the series finally began streaming in India when all eight episodes of the first season released on Lionsgate Play. Indian audiences should be thankful for this recent proliferation of OTT platforms in the country that has allowed relatively niche shows like Shining Vale to be available in India.
Series: Shining Vale
Creators: Jeff Astrof, Sharon Horgan
Cast: Courteney Cox, Greg Kinnear, Gus Birney, Dylan Gage, Merrin Dungey, and Mira Sorvino
anyflix.in                Group Media Publications
Construction Infrastructure and Mining News Platform – https://cimreviews.com/
General News Platform – https://ihtlive.com/
Legal and Laws News Platforms – https://legalmatters.in/
Podcast Platforms – https://anyfm.in/
Watch Vicky Kaushal blush when Katrina Kaif.
Title: Vicky Kaushal's Blushing Affection: Fans Bring Up Katrina Kaif During the "Zara Hatke Zara Bachke" Promotions
Introduction: The world of Bollywood is always abuzz with gossip and speculation, especially when it comes to celebrity relationships. Recently, during the promotional events for the film "Zara Hatke Zara Bachke," fans managed to put Vicky Kaushal in a rather adorable spot by mentioning his rumored romantic interest, Katrina Kaif. The actor's blushing response and the ensuing excitement among fans added a touch of sweetness and intrigue to the film's promotions.
Fans' Curiosity: As Vicky Kaushal stepped out to promote his latest project, "Zara Hatke Zara Bachke," fans couldn't resist bringing up the topic of his alleged relationship with Katrina Kaif. The couple's rumored romance has been the subject of much speculation in the media and has piqued the curiosity of fans worldwide. During various interactions, fans took the opportunity to tease Vicky and observe his reaction when Katrina's name was mentioned.
Vicky's Blushing Affection: Much to the delight of fans, Vicky Kaushal couldn't hide his blushing smile when Katrina Kaif's name came up during the promotions. Despite maintaining a certain level of privacy about their personal lives, Vicky's reaction spoke volumes about his affection for the Bollywood diva. His genuine blush and sheepish smile instantly became a viral moment, capturing the attention of fans and adding an element of charm to the film's promotions.
The Power of Speculation: Celebrity relationships have long been a source of fascination for fans, and the Vicky Kaushal-Katrina Kaif pairing is no exception. The duo's alleged romance has sparked a wave of speculation and has fans eagerly awaiting any confirmation or denial from the actors themselves. The excitement surrounding their possible relationship has not only fueled curiosity but has also propelled the film's promotions to new heights.
Maintaining Privacy: Despite the constant scrutiny and interest in their personal lives, both Vicky Kaushal and Katrina Kaif have been relatively private about their relationship status. They have chosen to let their work and performances speak for themselves, keeping their personal lives away from the prying eyes of the media. This discretion has only added to the allure and intrigue surrounding their rumored romance, leaving fans eagerly anticipating any official statement or revelation.
Fans' Reactions: The adorable moment of Vicky Kaushal blushing when Katrina Kaif's name was mentioned quickly spread across social media platforms. Fans couldn't help but swoon over the actor's genuine reaction, expressing their excitement and support for the potential couple. Memes, fan art, and heartwarming messages flooded the internet, showcasing the extent of fans' enthusiasm and affection for the duo.
Looking Ahead: As Vicky Kaushal continues his promotional journey for "Zara Hatke Zara Bachke," fans eagerly anticipate any further interactions or revelations between him and Katrina Kaif. The duo's undeniable chemistry, both on and off-screen, has only fueled the curiosity surrounding their relationship. Whether they choose to keep their personal lives private or make an official announcement, fans remain dedicated and excited to witness their favorite actors' journey, both professionally and personally.
Conclusion: The promotion of "Zara Hatke Zara Bachke" became even more exciting as fans playfully brought up Katrina Kaif's name to observe Vicky Kaushal's blush-inducing response. The actor's heartfelt reaction delighted fans and added a touch of sweetness to the promotional events. While Vicky and Katrina choose to maintain their privacy, their rumored romance continues to captivate fans, who eagerly await any confirmation or further glimpses into their relationship. As the promotional journey unfolds, fans will continue to.
Group Media Publications
Entertainment News Platforms – anyflix.in
Construction Infrastructure and Mining News Platform – https://cimreviews.com/
General News Platform – https://ihtlive.com/
Podcast Platforms – https://anyfm.in