Review of the film Kaatteri: This scary comedy has passed its prime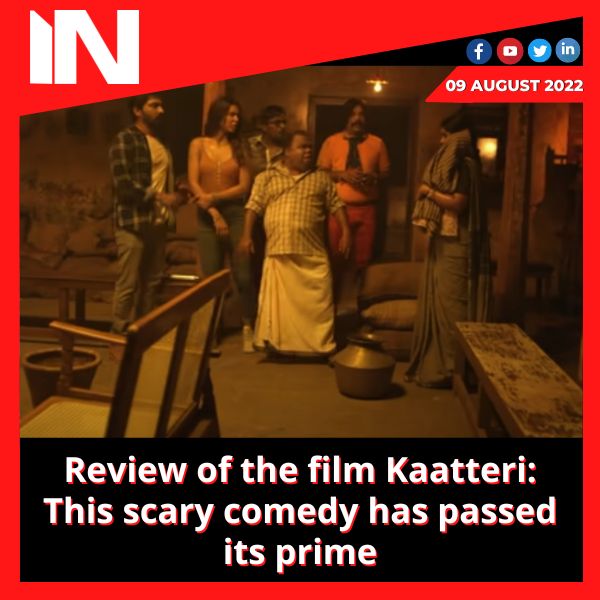 Review of the movie Kaatteri: In Kaatteri, director Deekay reuses the setup from his first film Yaamirukka Bayamey to create a new horror-comedy that features gullible heroes, an eclectic cast of comic characters, and an even more eclectic collection of ghosts. The main characters in this story are foolish small-time criminals who have incurred the wrath of their boss, a terrifying gangster. They decide to flee there with a psychiatrist whom their boss had assigned them to kidnap and an unaware policeman after learning of a village that is home to treasure. But they don't realise it's a ghost town until they actually arrive at the location.
While Yaamirukka Bayamey didn't invent anything new, it was creative enough to provide us with a unique experience and set itself apart from the glut of horror comedies that were popular at the time it was released in Tamil cinema. Kaatteri would have debuted at the tail end of the horror comedy craze if not for production setbacks, which would have given it a period feel. But now that the trend has changed, the movie seems like an anomaly that has outlived its usefulness. It doesn't help this one's case that it treads on ground that has almost been covered by movies of its calibre.
There isn't much to really impress us other than the concept of basing a story around the ghosts we hear in our folktales, such as Kaatteri, Maathamma, Mohini, and Echakkutty, and the opening set-piece where we witness a mass murder. The actors are in fine form, and there are a few laughs and fewer scares, but these don't feel like enough. The treatment of its female characters, who are frequently objectified, is the biggest letdown. The film feels the most dated when male actors are seen gazing at, lusting after, or invading the personal space of the female characters in the name of comedy.

Group Media Publications
Entertainment News Platforms – anyflix.in
Construction Infrastructure and Mining News Platform – https://cimreviews.com/
General News Platform – https://ihtlive.com/
Legal and Laws News Platforms – https://legalmatters.in/
Podcast Platforms – https://anyfm.in/
Nayanthara Wishes Atlee a Happy Birthday Despite Rumours That She Is "Upset" With Him
The world of cinema is no stranger to gossip and rumors, especially when it comes to the personal lives of celebrities. Recently, rumors began swirling about the alleged rift between South Indian superstar Nayanthara and renowned filmmaker Atlee. However, Nayanthara has proven that actions speak louder than rumors by extending a heartwarming birthday wish to Atlee despite the speculations of a strained relationship.
The Nayanthara-Atlee Rumor Mill:
Gossip and speculations had been rife about Nayanthara's supposed displeasure with Atlee, which was rumored to be related to their professional collaboration. Such rumors often capture the imagination of fans and the media, fueling speculations about the dynamics within the entertainment industry.
Nayanthara's Birthday Wish:
On Atlee's birthday, Nayanthara took to social media to extend her heartfelt wishes to the filmmaker. Her message was simple yet powerful, expressing her well wishes and admiration for Atlee's work. It was a public display of support that spoke volumes about their relationship.
The Power of a Birthday Wish:
In the world of social media, a simple birthday wish can carry significant weight. It signifies goodwill, friendship, and a willingness to move beyond any differences. Nayanthara's birthday wish to Atlee was not just a gesture; it was a testament to the maturity and professionalism that defines the film industry.
Breaking Stereotypes:
Celebrity feuds and misunderstandings are nothing new, but they often serve as a reminder that celebrities are human too, with their own emotions and conflicts. Nayanthara's public birthday wish to Atlee challenges the stereotype that celebrities are constantly embroiled in controversies and feuds. It showcases the importance of maintaining cordial relationships, even in the face of adversity.
The Impact on Fans:
Celebrity relationships have a significant impact on fans. The warmth and camaraderie displayed by Nayanthara are likely to resonate with her fans, sending a message of positivity and unity. It reminds us that empathy and understanding can go a long way in any relationship.
Nayanthara's birthday wish to Atlee, despite the rumors of a strained relationship, is a refreshing reminder of the power of positivity and maturity. In a world where gossip and rumors often overshadow the achievements of celebrities, this gesture stands as a beacon of hope and understanding. It shows that even in the glitzy world of showbiz, genuine human connections and goodwill have a place. Nayanthara's birthday wish serves as a lesson in grace, forgiveness, and the importance of breaking the rumor mill to build bridges instead of walls.
Group Media Publications
Entertainment News Platforms – anyflix.in
Construction Infrastructure and Mining News Platform – https://cimreviews.com/
General News Platform – https://ihtlive.com/
Podcast Platforms – https://anyfm.in