Direct neuronal degeneration is brought on by Krabbe disease: study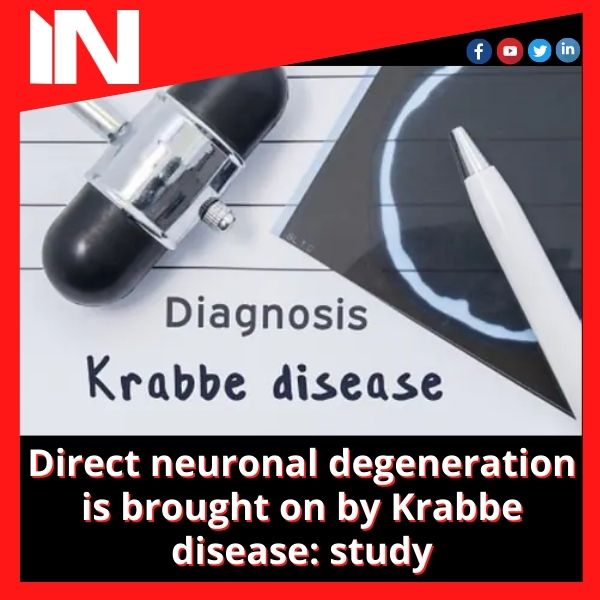 A recent study found that the gene mutation underlying Krabbe disease directly causes neuronal degeneration, independent of how it affects other cell types. This new mode of action for the mutated gene provides a clearer view of the illness process and could aid in the creation of new treatments.
Galactosylceramidase (GALC) gene mutations are the primary cause of the uncommon autosomal recessive neurological ailment known as Krabbe disease. The lysosomes contain the GALC enzyme, and its lack causes the lipid psychosine to accumulate. Cell membrane instability, degeneration, and cell death are brought on by the buildup of psychosine in the brain and other areas of the body.
One of the main pathological characteristics of Krabbe disease is the loss of myelin insulation around the nerves. Oligodendrocytes, which produce myelin, have naturally been considered to be the disease's initiators, with the degeneration of neurons acting as a later effect of this myelin loss.
Other, more recent research has suggested that neurons may be impacted independently, but it has been challenging to test that theory because GALC is widely expressed in the brain and its loss due to disease affects all cell types. To get around this obstacle, the authors developed a mouse model in which GALC expression was only suppressed in neurons while the regular gene was still active elsewhere.
Researchers discovered that psychosine built up in neurons, causing irregularly shaped lysosomes, enlarged axons, and an increase in neuronal mortality, as well as neuroinflammation and deficiencies in mice's motor function and coordination. No oligodendrocytes were lost, but the absence of neuronal GALC expression did result in a decrease in myelination, perhaps as a result of toxic effects on myelin sheaths from the accumulating psychosine.
For the first time, according to Shin's findings, galactosylceramidase production in neurons is necessary to preserve and safeguard neuronal function, regardless of how it may affect oligodendrocytes that produce myelin. These findings imply that the lack of the enzyme in neurons may directly contribute to the pathogenesis of Krabbe disease, and that Krabbe disease treatments may require to target the lack of galactosylceramidase production in neurons.
Adding, Shin "Our research is the first effort to specifically examine the neuronal function of the Krabbe disease gene galactosylceramidase in a preclinical live animal model. We discovered an intrinsic neuronal role for this enzyme in creating a neuron-specific mutant of Krabbe disease. This finding suggests that, independent of myelin and other brain cell types, neuronal galactosylceramidase has a primary role in maintaining neuronal homeostasis, and that galactosylceramidase-depleted neurons may be the main cause of Krabbe disease. Galactosylceramidase supplementation to neurons would probably increase the effectiveness of therapeutic approaches for Krabbe illness since the protective role of neuronal galactosylceramidase suggests a new function unrelated to its conventional role in myelination."
Group Media Publications
Entertainment News Platforms – anyflix.in
Construction Infrastructure and Mining News Platform – https://cimreviews.com/
General News Platform – https://ihtlive.com/
Legal and Laws News Platforms – https://legalmatters.in/
Podcast Platforms – https://anyfm.in/
The UN approves a second malaria vaccine. Experts caution that preventing the spread of the disease alone is insufficient.
The UN Approves a Second Malaria Vaccine: A Milestone in the Fight Against a Deadly Disease
Malaria, a mosquito-borne infectious disease caused by the Plasmodium parasite, has plagued humanity for centuries, particularly in sub-Saharan Africa. The World Health Organization (WHO) estimates that in 2020 alone, there were approximately 241 million malaria cases worldwide, leading to an estimated 627,000 deaths, primarily among children under five years of age. Malaria's impact on global health and economies has been devastating, making it a significant public health concern. Recently, the United Nations (UN) approved a second malaria vaccine, marking a milestone in the battle against this deadly disease. However, experts caution that preventing the spread of malaria requires a multi-faceted approach beyond just vaccination.
The Challenge of Malaria
Malaria is a complex disease that poses significant challenges to eradication efforts. The parasite's ability to develop resistance to antimalarial drugs and the adaptability of its mosquito vector make it a formidable adversary. Furthermore, many affected regions lack adequate healthcare infrastructure, making the delivery of prevention and treatment measures difficult.
The First Malaria Vaccine: A Step Forward
In 2015, the world saw the first-ever malaria vaccine, known as RTS,S/AS01 (trade name Mosquirix), receive regulatory approval. Developed by GlaxoSmithKline (GSK) in partnership with the PATH Malaria Vaccine Initiative, this vaccine showed promise in reducing the risk of malaria in children. While a significant advancement, it had limitations, such as being less effective in areas with high malaria transmission rates.
A New Hope: The Second Malaria Vaccine
The recent approval of a second malaria vaccine, known as R21/Matrix-M, has reignited hope in the fight against the disease. Developed by the University of Oxford's Jenner Institute in collaboration with Novavax and the Serum Institute of India, this vaccine has shown remarkable efficacy in clinical trials. It demonstrated an ability to reduce the risk of malaria by approximately 77% over 12 months, making it a significant breakthrough.
The Multifaceted Approach to Malaria Eradication
While the approval of a second malaria vaccine is undoubtedly a positive development, experts emphasize that it's not a panacea for malaria eradication. Preventing the spread of the disease requires a multi-pronged approach that includes:
Vector Control: Mosquito control measures, such as bed nets treated with insecticides and indoor residual spraying, remain essential in reducing malaria transmission.
Effective Treatment: Access to prompt and effective treatment with antimalarial drugs is critical for those who contract the disease.
Public Health Infrastructure: Strengthening healthcare systems in affected regions to provide proper diagnosis and treatment is crucial.
Education and Awareness: Public awareness campaigns can help communities understand the importance of preventive measures and early treatment.
Research and Innovation: Ongoing research into malaria prevention, treatment, and vector control is vital to stay ahead of the evolving parasite.
Conclusion
The approval of a second malaria vaccine by the UN is undoubtedly a significant stride in the fight against this deadly disease. However, experts caution that a comprehensive approach, encompassing vaccination, vector control, treatment, healthcare infrastructure, education, and research, is necessary to make substantial progress toward malaria eradication. With continued global efforts and investments, we can hope for a future where malaria is no longer a threat to millions of lives worldwide.
Group Media Publications
Entertainment News Platforms – anyflix.in      
Construction Infrastructure and Mining News Platform – https://cimreviews.com/
General News Platform – https://ihtlive.com/
Podcast Platforms – https://anyfm.in