Study finds antibiotics after birth affects gut microbes of babies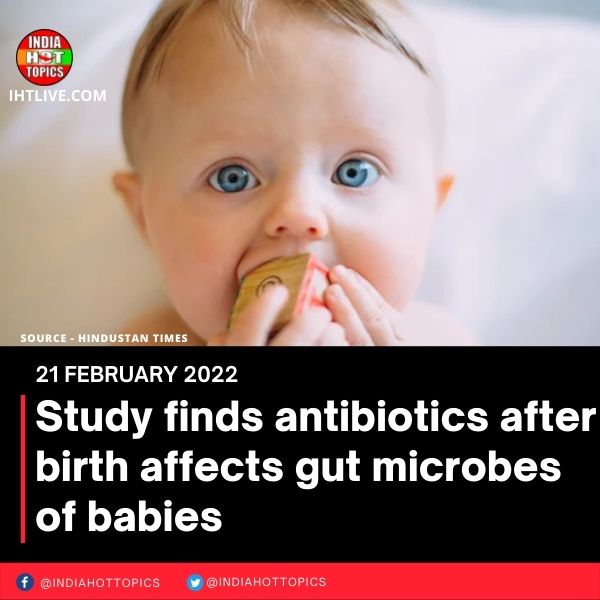 Treating newborns with antibiotics is associated with fewer healthy bacteria needed to digest milk, a new study finds.
The results were published in the journal Nature Communications.
Clinicians should consider using antibiotics in a way that causes the least damage to the newborn's microbiome, the community of microbes that live in our bodies, experts say.
According to current guidelines, between 4% and 10% of all newborns with suspected infection are currently prescribed antibiotics that target multiple bacteria — so-called broad-spectrum antibiotics.
However, experts say antibiotic prescriptions are unnecessary in most cases because only a small percentage of people who receive the drugs end up being diagnosed with the infection.
This overprescribing is designed to ensure early treatment for those who are eventually found to be infected, as any delay could quickly become life-threatening.
Researchers from the Universities of Edinburgh and Birmingham, Spaarne Hospital and Utrecht University Hospital in the Netherlands conducted a clinical study involving 227 infants to analyse how antibiotics affect the newborn's microbiome.
About 147 infants with suspected sepsis received one of three standard antibiotic regimens. Their results were compared with those of 80 infants who had no suspected infection and who were not taking antibiotics.
Rectal or stool samples were collected from all infants before and after treatment and at 1, 4, and 12 months of age. The microbes that make up the newly formed microbiome and bacterial genes associated with antibiotic resistance in the samples were analyzed.
Significantly lower levels of various bifidobacteria were found in neonates prescribed antibiotics compared with infants who did not receive antibiotics.
These microbes help digest human breast milk and promote gut health, while supporting the immune system to fight infection.
The team also found an increase in the number and abundance of potentially disease-causing bacteria and genes associated with antimicrobial resistance in people treated with antibiotics.
After treatment, 251 of the 695 different bacteria examined changed, thereby altering the balance between good and bad bacteria in favor of potentially more harmful microbes.
Although they recovered over time, the changes in the microbiome and antimicrobial resistance genes persisted for at least 12 months and did not improve with breastfeeding, which is known to support infants' immune systems.
Professor Debbie Bogart, Chair of Paediatric Medicine at the University of Edinburgh and head of the study, said: "We were surprised by the magnitude and duration of the effect of broad-spectrum antibiotics on the infant microbiome compared to the effect of the same antibiotic on the infant microbiome. The adult microbiome. This may be because antibiotic treatment occurs when infants are just getting their first microbes from their mothers and have yet to develop a resilient microbiome."
Of the three antibiotic regimens tested, the combination of penicillin and gentamicin had the least adverse effect on the infant gut microbiome and the number of emerging antimicrobial resistance genes.
The researchers concluded that this particular combination of antibiotics is best used to treat suspected infections in newborns.
Dr Marlies van Houten, a paediatrician at Spaarne Hospital in the Netherlands and co-principal investigator of the study, said: "The fact that the initiation of antibiotic treatment appears to be the cause of the microbiome damage, rather than the duration, underscores our need for better biomarkers. or biological predictors to more accurately determine which children will develop an infection, and therefore require antibiotics, and which will not."
Professor Willem van Schaik, Professor of Microbiology and Infections at the University of Birmingham, said: "It is particularly concerning that we observed two important multidrug-resistant strains of Klebsiella and Enterococcus in neonates treated with antibiotics. Drug pathogens have increased substantially.
"This underlines the importance of further studies into balancing the need and effectiveness of these antibiotics and the risk of the emergence of genes linked with resistance. There may also be scope to develop new interventions, like live biotherapeutics – a treatment that is produced by or involving living cells – to effectively restore the composition of the infant gut microbiome after antibiotic therapy."
Complete News Source : HINDUSTAN TIMES
Before International Yoga Day, Malaika Arora posted a yoga video with core-strengthening postures that everyone may perform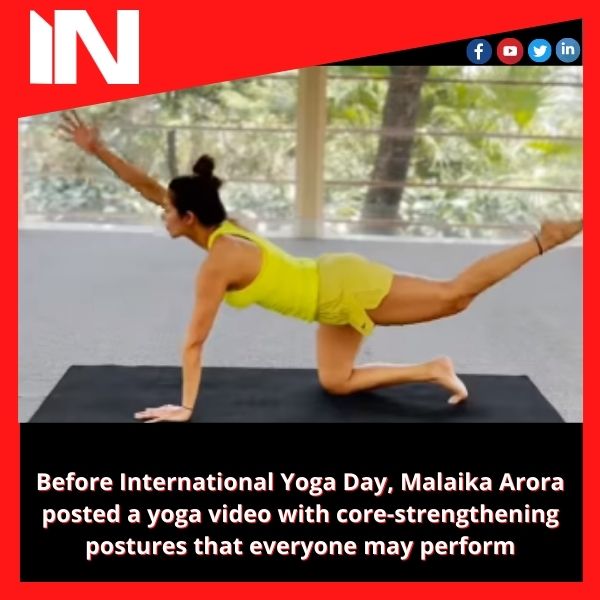 International Day of Yoga 2022: Actor Malaika Arora is a devoted yoga practitioner, as seen by her numerous online articles on the ancient technique. The exercise enthusiast, like many others, is looking forward to the annual International Yoga Day on June 21. Malaika took to Instagram today, a day before the event, to share a core-strengthening yoga flow routine with her fans. Anyone can do the yoga flow sequence that the star posted, and it has a lot of benefits.
Malaika Arora's official Sarva Yoga studio Instagram account shared a video of the star practising a vigorous yoga flow programme to strengthen her core. Malaika performed the Vyaghrasana, or Tiger Pose, and a Cat Pose version while clad in a lemon green tank top and shorts. "Yoga isn't rigid, which is why I enjoy practising these dynamic sequences. This month, especially in today's incentive, it's all about getting creative. #yoga #yogainspiration #yogadrills #yogaday #sarvayogastudios #malaikasmoveoftheweek, #yoga #yogainspiration #yogadrills #yogaday #sarvayogastudios #malaikasmoveoftheweek, "The video was captioned by Malaika.
Malaika opens the video by performing the Vyaghrasana, or Tiger Pose, followed by a one-legged variation of the Cat Pose. She began by assuming the Table Top position and then extended one leg and the opposing hand on opposite ends. Malaika then squeezed her outstretched hand and leg together right below her chest, joining the elbow and knee. In the video, she conducted the flow exercise for four counts.
Vyaghrasana, also known as the Tiger Pose, heals back pain, relieves sciatica by calming the sciatic nerves, loosens leg and hip joints, increases spine flexibility, develops the abdominal, back, buttocks, hips, and legs core muscles, and targets the spine. It's also a good exercise for new mothers right after they give birth.
Meanwhile, since 2015, the International Day of Yoga has been observed yearly on June 21. 'Yoga for mankind' is the theme for the International Day of Yoga in 2022.
anyflix.in      Group Media Publications
Construction Infrastructure and Mining News Platform – https://cimreviews.com/
General News Platform – https://ihtlive.com/
Legal and Laws News Platforms – https://legalmatters.in/
Podcast Platforms – https://anyfm.in/