Sony enters the PC gaming equipment market with its new Inzone brand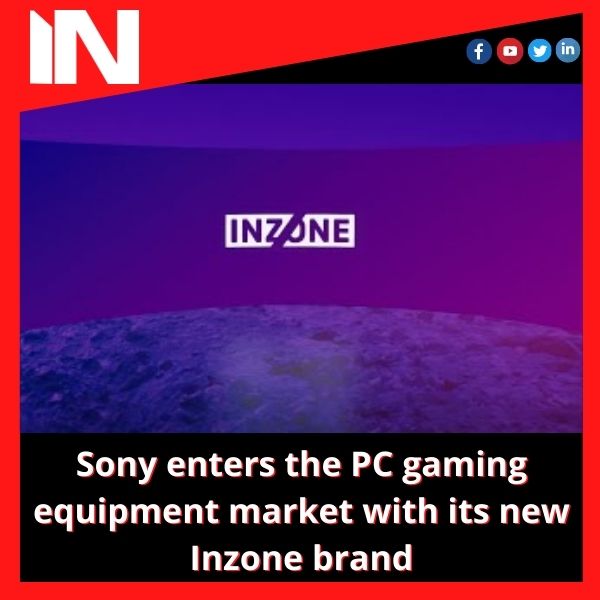 In an effort to broaden its appeal beyond the PlayStation, Sony Group Corp. is introducing a new line of gaming accessories under the name Inzone, including headphones and PC displays.
In addition to its aspirations to distribute more former PlayStation exclusives on the Windows platform, the Tokyo-based company's new brand is an attempt to gain market share in the accessories sector. Sony has been taking attempts to expand its gaming empire to the mobile and PC markets in recent years and wants to convey to consumers that its products and games stretch beyond the confines of its console ecosystem. According to Newzoo research, PCs will account for a fifth of the worldwide gaming business, or $41 billion in 2022, and they will host some of the most popular titles.
Three gaming headphones and two gaming monitors will make up the first Inzone offerings. The price of the headphones ranges from $99.99 for a wired model to $299.99 for a wireless model with noise cancellation. All of them are compatible with the PlayStation 5 console and feature so-called 360-degree spatial sound to aid gamers in better identifying the sound sources around them. The two 27-inch monitors come in 4K and lower-resolution options, both with quick 240Hz refresh rates, and with PS5-specific capabilities including automatic image correction when connected to the console.
According to a press release from the company, the other monitor will debut later in 2022, while all three headsets and the 4K display will be on sale on July 8.
"We put all of our expertise in audio and video into these Inzone solutions. At a news conference in Tokyo on Wednesday, Sony Marketing general manager Shuichi Mogitani stated, "We want to start by courting serious PC gamers. "This presents a diverse range of commercial opportunities. These PC gamers make it a point to play for at least five to six hours each day.
Since its release in late 2020, Sony's flagship PlayStation 5 console has consistently been in short supply. Additionally, the corporation is developing a more inclusive online gaming subscription service to compete with rival Microsoft.
The PC gaming platform Steam has more monthly active users than Sony's PlayStation, but according to industry expert Serkan Toto of Kantan Games, "Sony now looks dead intent on extending the PlayStation ecosystem." "It makes perfect sense for a hardware business to sell branded accessories in addition to software to this huge audience."
Compared to Sony's conventional console stronghold, PC gaming benefits from substantially higher hardware investment. The price of the PlayStation 5 ($499.99) is less than half that of a flagship graphics card, the star item in any gaming PC. Sony wants to diversify its gaming platform footprint while boosting net income by marketing to customers who are accustomed to paying more.
The gaming division of the corporation, Sony Interactive Entertainment, predicted net PC sales of $300 million for the current fiscal year, more than triple the $80 million from 2021.
According to Hideki Yasuda, an analyst at Toyo Securities, "Considering the short supply of PS5 and rising game development costs, the PC gaming sector is increasingly crucial for Sony in order to show stable profit to investors."
With its own array of PCs and peripherals and an established stable of well-known gaming-centric businesses like Razer Inc., Corsair Gaming Inc., Logitech International SA, and SteelSeries, Microsoft will have an advantage against Sony in this market.
anyflix.in      Group Media Publications
Construction Infrastructure and Mining News Platform – https://cimreviews.com/
General News Platform – https://ihtlive.com/
Legal and Laws News Platforms – https://legalmatters.in/
Podcast Platforms – https://anyfm.in/
Google I/O 2023 will introduce the Google Pixel 7a tomorrow. ways to view it live
Google I/O is an annual developer conference held by Google, where the company showcases its latest products, software updates, and innovations. The conference is a highly anticipated event for technology enthusiasts and fans of Google products. This year, Google I/O 2023 is expected to introduce the Google Pixel 7a, the latest addition to the Google Pixel smartphone lineup.
If you are excited to see the unveiling of the Google Pixel 7a and want to watch it live, there are several ways to do so. Here are some of the ways you can view the announcement:
Watch the Livestream on YouTube
Google I/O will be livestreamed on YouTube, so you can watch the entire event from the comfort of your own home. The livestream will be available on the Google Developers YouTube channel, and you can watch it on your computer, smartphone, or tablet.
Follow the Event on Twitter
Google I/O will also be covered on Twitter, so you can follow the official Google I/O Twitter account to get live updates and news about the event. You can also follow tech journalists and bloggers who will be attending the conference to get a more detailed view of the announcements.
Check Out Tech News Websites
Many tech news websites, such as The Verge, TechCrunch, and Engadget, will be covering the Google I/O event and the unveiling of the Google Pixel 7a. You can visit these websites to get the latest news and analysis about the product, as well as other announcements made during the event.
In conclusion, the Google I/O 2023 conference is an exciting event for tech enthusiasts, and the unveiling of the Google Pixel 7a is expected to be a highlight of the conference. By watching the livestream on YouTube, following the event on Twitter, or checking out tech news websites, you can stay up-to-date on the latest developments and announcements. Whatever method you choose, it's sure to be an exciting and informative event for anyone interested in technology and the Google Pixel lineup.
Group Media Publications
Entertainment News Platforms – anyflix.in      
Construction Infrastructure and Mining News Platform – https://cimreviews.com/
General News Platform – https://ihtlive.com/
Podcast Platforms – https://anyfm.in